01-09-2012 | Originals Originalarbeiten | Issue 5/2012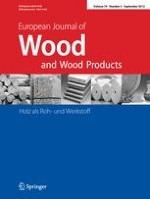 Mechanical performance and dimensional stability of nano-silver impregnated densified spruce wood
Authors:

Ghonche Rassam, Mohammad Ghofrani, Hamid Reza Taghiyari, Behnam Jamnani, Mohamad Ali Khajeh
Important notes
Conflict of interest
: Authors (except the 2nd and the last) are academic members of Shahid Rajaee Teacher Training University and have a financial relationship with this organization.
Abstract
The aim of this study was to investigate the effect of nano-silver treatment on some physical and mechanical properties of compressed low density wood species. Wood specimens were prepared from spruce (
Picea abies
), impregnated with water or nano-silver solution by empty cell process and compressed through radial direction in a hot press. The results showed that by nano-silver treatment, the spring back, bending strength (modulus of rupture) and impact load resistance were improved significantly. The best results for spring-back (0.04%) were seen in the nano-silver impregnated specimens that were compressed at 150°C for 4 hours. The modulus of rupture (MOR), modulus of elasticity (MOE) and impact load resistance in nano-silver impregnated densified specimens were gained for 53%, 41.2% and 175.7%, respectively (in comparison with controls). The maximum amounts of impact load resistance belonged to the nano-silver impregnated specimens which were compressed at press conditions of 150°C for 4 hours, showing the high ability of these specimens against high impact loads such as earthquake loads. An upcoming research (consisting of durability tests) will be done for evaluating the suitability of nano-silver impregnated densified spruce wood for exterior uses.