2020 | OriginalPaper | Chapter Open Access
4. Media Policy, Democracy and Theories of the Press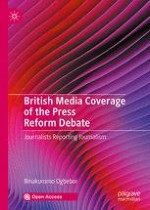 Author: Binakuromo Ogbebor
Publisher: Springer International Publishing
In Western democracies, most arguments about media policy are premised on normative theories of the press (Christians et al.
2009
, p. 5). These arguments are inspired by the idea that the media are entrusted with information power and how this power is used has consequences for democracy (Stromback
2005
, p. 335). This chapter discusses some of the theories and ideologies on which arguments about media policy reform are predicated. An understanding of these theories is essential for the comprehension of these arguments. The normative theories discussed in this chapter include the neoliberal variant of the libertarian theory and the ideology of social democracy. The concepts of libertarianism and social responsibility are examined to provide background information on the neoliberal theory of the press. To emphasise the important role the media play in sustaining self-governance through citizens participation in public debates, I explore relevant conceptualisations of the public sphere. Specifically, Habermas' (
1989
) concept of a central public sphere; Fraser's (
1992
) conceptualisation of multiple publics and Ornebring and Jonsson's (
2004
) application of Fraser's concept of multiple publics are critically analysed. 'Journalism as an interpretive community', a concept put forward by Zelizer (
1993
), is expounded to show that in debates about their profession, the press can function as an interpretive community, multiple homogeneous publics and individual unique voices.
The media have become a very important part of contemporary human affairs (McQuail
2010
, p. 162). Information on a wide variety of subjects ranging from lifestyle to political issues can be accessed through the media. Top of the scale of the media's relevance to society is its role in the sustenance of democracy (Christians et al.
2009
, p. 55). It has been argued that democracy cannot survive in contemporary society without the news media (Lee-Wright et al.
2012
, p. 3). There is a wide consensus that the media ought to carry out certain functions in a democratic society (Schudson
2008
). Though the views of scholars on the extent to which they do and ought to do this vary, many agree that one of the media's roles is to check on government to see that they are accountable to society (Lee-Wright et al.
2012
, p. 3). The media are also expected to serve as the communication link between the public and political leaders, often acting as the voice of the people as well as advocate of the oppressed and less privileged. That is why any threat to responsible journalism is viewed by many as a threat to democracy.
It is widely accepted that what legitimates the media is their role in the sustenance of democracy (Franklin
2004
; Herman and Chomsky
2008
). This view is, however, not without contestation. Some analysts have described the claim as both a "stereotype and a myth" (Merrill
2000
; Graber
2003
). The latter argument may hold water when viewed against the background that the media and indeed journalism exist in nations that do not practice democracy. In such nations, the media serve as an instrument of propaganda (Scammell
2000
) and not as an agent of democracy. However, in today's liberal democracies, the media play a vital role in the growth and sustenance of democracy. Since "democracy" is a broad term, it is important to clarify the type of democracy this book is concerned with. There are diverse definitions of democracy yet two major divides: the minimalist and maximalist definitions (Lipset and Lakin
2004
, pp. 19–22). While the minimalist definition focuses on democracy as a system in which adult citizens of a community have the right to vote in a leader of their choice (Schumpeter
1943
, cited in Saxer
2013
, p. 5), the maximalist approach to democracy goes beyond the political sphere to include social and economic values, such as freedom to receive and give information, freedom of association, equal opportunities and press freedom (Ewald
2013
, p. 52). The maximalist approach is based on the idea that all aspects of society should be run democratically. In other words, democracy can be practiced in different domains of life, such as in the media, business, non-governmental organisations, meetings, families and schools.
Unlike the minimalist approach to democracy, which is based on the elitist view of Schumpeter (
1943
) where democracy is confined to an elite group voted into power by the people, maximalists see democracy as a system of government in which power rests with the populace, not only their right to vote in a leader of their choice but also their right to equal participation in public debates through which they could influence decisions that affect them (Cheema
2005
, p. 4). As stated earlier, this book is concerned with the maximalist approach to democracy. Therefore, the definition of democracy as "governance by the people, for the people and of the people" (Lincoln
1863/2009
) is interpreted in this book as the ability of "the people" (citizens) to take part in governance, not only by voting in the right leader, but also by taking part in public debates that can influence policy decisions (Gunther and Mughan, cited in Christians et al.
2009
, p. 25). This book engages with the maximalist approach to democracy. Did the media play its role of sustaining democracy through its facilitation of citizens' participation in the media policy that followed the
News of the World
phone hacking scandal? This book provides answers to this question. It takes the position that creative and effective ideas for media reform can emerge from the press if it serves as a democratic space for public debates.
It is widely acknowledged that democracy is the best form of government (Dahl et al.
2003
, p. 29). However, this view is not without contestation. Some philosophers like Plato (cited in Dahl et al.
2003
) and Aristotle in his
The Politics
(
2010
, 335–323 BC) have questioned the endorsement of democracy as the ideal form of government. Towing this line, scholars like Merrill (
2000
), Graber (
2003
) and Barry (
2011
) argue that democracy is not necessarily the ideal type of government but that each country should be allowed to develop the style of government that best suits their culture (Merrill
2000
, pp. 197–199). However, several empirical studies have identified democracy as a popular form of government (Norris
1999
; Dahl et al.
2003
). Though Dahl et al. (
2003
, p. 29) admit that "democracy is not an unmitigated blessing", they contend that its advantages far outweigh its shortfalls. The latter argument is the position of this book. Democracy is important because it promotes human rights including freedom of expression (Dahl et al., ibid.). In an age where freedom of the individual to speak, be informed and publish is recognised as universal human rights, democracy promotes freedom as no feasible alternative can (Dahl
1989
, pp. 88–89).
As the former UK Prime Minister Winston Churchill said, "Democracy is the worst form of government, except for all those other forms that have been tried from time to time" (Mishler and Rose 1999, cited in Richard et al.
2009
, p. 23). It is worthy of note that despite arguments for and against democracy, it has emerged as the choice system of government in the twenty-first century (Held
2006
, p. 1). Countries with strikingly different political systems have all claimed to be democratic (Held
1996
, p. 1; Manza and Uggen
2006
, pp. 17–18) but there is a great difference between actual and ideal democracy (Sartori
1987
, pp. 7–8). Actual democracy refers to the definite way the concept is practiced in a specific group while ideal democracy is normative. Some scholars have argued that going by the definitions of democracy, ideal democracy is impracticable (Wolff
2013
, p. 11). Does this imply that evaluating media coverage based on normative theories of the press in a democracy is asking too much of the media? The following section attempts to answer this question by reviewing relevant literature on normative theories of the press in a democratic society.
Normative Theories and Media Policy
The Media as a Democratic Public Sphere
Conclusion
The media are expected to carry out certain functions that are integral to the sustenance of democracy. One of such functions is to operate as a public sphere where citizens can participate in debates that can affect policy decisions. How the media facilitate debates in this space can affect the outcome of debates on policy. With regard to debates on media policy, a degenerated public sphere would produce a shallow and dumbed down debate with narrow perspectives that are shaped by self-interest. Such a public sphere would lack the creativity and robustness needed to generate discussions that can result in the establishment of an accountable press. The normative expectation is that the media should serve as a democratic public sphere, one that gives voice to all parties involved in a debate irrespective of their argument or their status in society. The exclusion or marginalisation of any of the parties involved from a debate on media policy will run contrary to "democracy's claim of universalism" (Dahlgren
1995
; p. 36). The type of space or amount of coverage given ought not to be based on the media's self-interest. The media ought to function as a marketplace of ideas during debates on media policy (Milton
1644/1961
; Mill
1859/1978
).
The neoliberal press theory argues that for the press to function as a marketplace of ideas where diverse views can be aired without fear of suppression or oppression, it must be autonomous of the state (ibid.). In democratic societies, it is widely accepted that the press should be given the freedom it requires to check the powerful so that they do not abuse their powers. What is often contested is the level of autonomy necessary to fulfil this role. Should all types of state intervention in press regulation be viewed as a slippery slope to licensing of the press? Is this perspective a paradigm that needs to be reconsidered? Can some levels of state intervention help to check press bad behaviour? The theory of social democracy argues that a little bit of state intervention in press regulation may not necessarily result in the loss of press freedom. It posits that measures can be put in place to ensure that government does not overstep its bounds. This book argues that no side of the argument should be suppressed or marginalised in debates about media policy. A public sphere that gives proportionate access to arguments based on diverse ideologies would feature more robust debates and is more likely to generate more creative and effective ideas for media reform.
This chapter applies the public sphere concept to discourse. In agreement with Fraser's (
1992
) argument that multiple publics rather than a single central public sphere are closer to the democratic ideal, this chapter argues that debates on media policy should make room for multiple discursive publics. It points out that in debates about media policy, journalism would not necessarily function as one interpretive community. I am of the view that this is a good thing because it reflects plurality of views in the debate. As Fraser (
1992
) argues, within the public sphere, contestation rather than a consensus is closer to the democratic ideal. Problems may arise from a situation where one discursive public dominates the discussion. Such a situation is akin to Habermas' central public where consensus rather than contestation within the public sphere was depicted as the democratic ideal. This book posits that democracy is enhanced not with a single comprehensive discursive public sphere, but with a situation that makes room for contestations among diverse competing discursive publics.
Open Access
This chapter is licensed under the terms of the Creative Commons Attribution 4.0 International License (
http://​creativecommons.​org/​licenses/​by/​4.​0/​
), which permits use, sharing, adaptation, distribution and reproduction in any medium or format, as long as you give appropriate credit to the original author(s) and the source, provide a link to the Creative Commons license and indicate if changes were made.
The images or other third party material in this chapter are included in the chapter's Creative Commons license, unless indicated otherwise in a credit line to the material. If material is not included in the chapter's Creative Commons license and your intended use is not permitted by statutory regulation or exceeds the permitted use, you will need to obtain permission directly from the copyright holder.