29-03-2019 | Issue 1/2020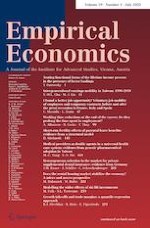 Medical providers as double agents in a universal health care system: evidence from generic pharmaceutical adoption in Taiwan
Journal:
Authors:

Meng-Chi Tang, Yi-Nong Wu
Important notes
We thank Charlie Chern, Ya-Ming Liu, Ji-Liang Shiu, and the seminar participants at the iHEA 9th World Congress and Feng Chia University for providing various comments on and suggestions to an early draft of this paper. Ya-Chi Wang, Jei-Ying Wei, and Yu-An Tsao provided research assistance for this paper. We are indebted to Heng-Sim Lee, Head of Pharmacy Division of the Chiayi Branch, Taichung Veterans General Hospital for providing institutional details on various aspects of generic pharmaceutical adoption and the institutional details of hospitals and clinics in Taiwan. The financial support from the National Science Council, Taiwan, is greatly appreciated (NSC101-2410-H-194-018-). This study is based in part on data from the National Health Insurance Research Database provided by the Bureau of National Health Insurance, Department of Health and managed by National Health Research Institutes. The interpretation and conclusions contained herein do not represent those of Bureau of National Health Insurance, Department of Health or National Health Research Institutes. All errors are our own.
Publisher's Note
Springer Nature remains neutral with regard to jurisdictional claims in published maps and institutional affiliations.
Abstract
This paper investigates medical providers' generic pharmaceutical adoption in Taiwan, stresses that this decision involves the interests of providers, patients and insurance payer. We examine this prescription behavior using Taiwanese data because patients and physicians did not self-select their insurance plans under a universal health care system. Physicians in Taiwan also respond to strong financial incentives because they are allowed to both prescribe and dispense drugs. The empirical results show that a larger price difference between brand-name and generic drugs increases physicians' likelihood for prescribing generic prescriptions. However, this effect decreases as the payer's cost share percentage increases. This study also demonstrates that some physicians prescribed more generic drugs than the others, including the hospital and clinic owners, and the ones practicing in clinics and private institutions.