08-09-2016 | Issue 3/2017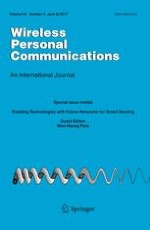 Method Based on Confidence Radius to Adjust the Location of Mobile Terminals
Journal:
Authors:

Juan Antonio García-Fernández, Antonio Jurado-Navas, Mariano Fernández-Navarro, Nikola Sucevic
Abstract
The present paper details a technique for adjusting in a smart manner the position estimates of any user equipment given by different geolocation/positioning methods in a wireless radiofrequency communication network based on different strategies (observed time difference of arrival , angle of arrivals, propagation delay
\(\ldots\)
). The main advantage of our proposal is to improve in a remarkable way the accuracy and to mitigate the adverse effect of multipath and other sources of errors that induce to inaccuracy in the terminals position estimates. Accordingly, the estimation of the geographical positions associated to all reported mobile terminals will be remarkable improved independent on the geolocation technique employed. The proposed method will move each position estimate towards a previously calculated area of confidence in a smart manner. This reduced area of confidence is generated to guarantee that the real position of any mobile terminal is inside it with a
\(95\,\%\)
of probability of certainty.