08-06-2019 | Issue 1/2020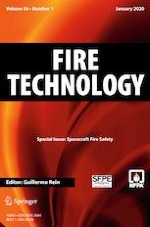 Methodology to Achieve Pseudo 1-D Combustion System of Polymeric Materials Using Low-Pressured Technique
Journal:
Authors:

Tatsuya Migita, Takumi Yamahata, Patrick Strempfl, Tsuneyoshi Matsuoka, Yuji Nakamura
Important notes
Publisher's Note
Springer Nature remains neutral with regard to jurisdictional claims in published maps and institutional affiliations.
Abstract
This paper provides the methodology to achieve pseudo 1-D combustion system of specific polymeric materials without any complex physical effect (e.g., deformation, bubble bursting etc.) by adopting a low pressure technique with a fuel-layered approach. The adopted pressure level in this study is as low as 20 kPa and the size of the specimen is sub-millimeter scale. By utilizing pressure modeling to keep the Grashof number small, the gravity effect is relatively minimized at low pressure to mimic an ideal 1-D combustion process. A molten PMMA layer formed over a ceramic ball (suspended by thin SiC fiber) was used as the burning specimen to fulfil the purpose of this study. Results show that a spherical flame without any apparent bubble bursting is successfully achieved during the entire burning event when the pressure is sufficiently lower (~ 20 kPa) for both 20% and 30% ambient oxygen concentration. A well-known
d
-square law and pseudo steady burning process is confirmed at the post-ignition stage. Direct comparison of burning rate,
K
, between what was obtained in this study and that obtained under microgravity ensures that the present methodology is effective to simulate an ideal 1-D combustion system, just like one that can be achieved in microgravity, without the need for microgravity facilities.