01-07-2020 | Original Research | Issue 13/2020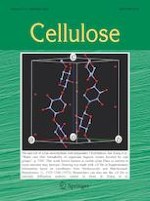 Methylcellulose strengthened polyimide aerogels with excellent oil/water separation performance
Journal:
Authors:

Longhai Zhuo, Cong Ma, Fan Xie, Shanshan Chen, Zhaoqing Lu
Important notes
Electronic supplementary material
Abstract
Polyimide (PI) aerogels have great potential in oil/water separation field, but the extreme volume shrinkage during the fabrication still remains challenging. Herein, a simple yet efficient strategy of incorporating methylcellulose (MC) in PI aerogels is proposed. The MC/PI composite aerogels were fabricated by freeze-drying plus thermal imidization with subsequent trimethylchlorosilane (TMCS) functionalization. The results revealed that MC entered the skeleton of aerogels and strengthened it effectively by promoting the formation of robust and complete 3D porous structure, and the defects of as-prepared aerogels were eliminated when the proportion of MC was beyond 10 wt%. After modification with TMCS, the water contact angle of aerogels increased significantly by 30°–40°, and the functionalized aerogels showed excellent oil absorption capacity up to 28.44 g/g. The outstanding oil absorbency and simple process for separating oil and water with MC/PI composite aerogels are promising candidates in the field of oil/water separation.