Published in: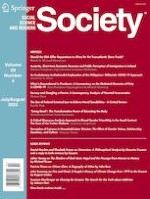 08-07-2022 | BOOK REVIEW
Michael Zürn,
Theory of Global Governance: Authority, Legitimacy and Contestation
Oxford University Press, 2018, 336 pp, ISBN: 978-0198819981
Published in: Society | Issue 4/2022
Login to get access
Excerpt
In this impressive work, Michael Zürn offers a sophisticated but accessible guide for readers trying to grasp the evolution of global governance in the conflict-ridden world of today. His definition of global governance is straightforward: it is "the exercise of authority across national borders as well as consented norms and rules beyond the nation state" (p. 3). More complex is his explanation of the forces pushing this governance in the opposite direction: deepening and decline. To grasp the meaning of this "complex parallelism of deepening and decline" (p. 3), Zürn invites the reader to focus on authority, legitimacy, and contestation. This exploratory triangle brings us to think about the triangle of "authority, territory and rights," proposed by Saskia Sassen in a somewhat different context.
1
In both cases, the choice is revealing because the proposed analytical schemes allow to cross disciplinary boundaries in the field of social sciences. …