16-07-2021 | Quality Assurance | Issue 6/2021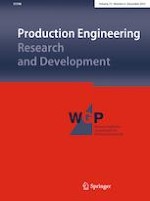 Micro-computed tomography to analyze industrial die-cast Al-alloys and examine impregnation polymer resin as a casting cavity sealant
Journal:
Authors:

Natsuto Soga, Ajith Bandara, Koichi Kan, Akifumi Koike, Toru Aoki
Important notes
Publisher's Note
Springer Nature remains neutral with regard to jurisdictional claims in published maps and institutional affiliations.
Abstract
The lightweight die-casting Al-alloys have become a more appropriate material in many industrial applications. However, the product's quality has been affected due to existing internal casting defects and the impregnation technique used to overcome drawbacks and improve alloys' useability. This paper discusses the use of microfocus X-ray computed tomography (XCT) to examine Al-alloy's die-casting internal deformity, identify the impregnation technique's effectiveness in sealing porosity non-destructively. Also, we recognize the presence of low atomic number polymer resin (P601) inside the alloy's defects quantitatively. 3D CT images with transparent effects were generated with a direct conversion X-ray flat panel detector to visualize internal casting defects in the entire samples. The gray-value contrast of 2D slice CT images was excellent to distinguish the resin material in the alloy samples qualitatively. The dimensional analysis shows that the impregnated resin does not seal the casting cavity homogeneously, and some air bubbles appeared inside the defects. The dual-energy X-ray CT technique with a photon-counting detector was executed to characterize the impregnant resin in die-casting cavities by its effective atomic numbers. The outcome shows that the resin material present in alloy's defects is identical to the solid P601 super-sealant impregnant resin, with a 1.81% error margin. Hence, the XCT technique with a direct-conversion CdTe detector can be used as a rapid and detailed non-destructive inspection technique in die-casting industries and improve the impregnation process's performance.