Published in: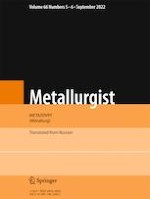 29-09-2022
Microstructure and Elemental Composition of Powders Obtained Under Conditions of Electroerosive Metallurgy of Heat-Resistant Nickel Alloy ZhS6U Wastes in Water
Published in: Metallurgist | Issue 5-6/2022
Login to get access
Abstract
This work is based on experimental studies aimed at examining the microstructure and elemental composition of powders obtained under electroerosive metallurgy conditions of the wastes of the heat-resistant nickel alloy ZhS6U in water. Accordingly, the high efficiency of the use of electroerosive dispersion technology is revealed. This technology ensures the production of spherical powders suitable for practical use at low energy costs. The rapid crystallization process of molten materials under conditions of electroerosive metallurgy of ZhS6U wastes in water contributes in making the particles spherical and elliptical shaped and the appearance of oxygen on its surface with a uniform distribution of Al, Cr, Fe, Co, Ni, Nb, Mo, Ti, and W.