22-07-2020 | Issue 3/2020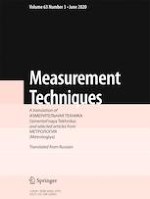 Microwave Resonance Method for Measuring Microliter Volumes of Free Moisture of Aviation Fuels
Journal:
Authors:

V. V. Volkov, M. A. Suslin, J. U. Dumbolov
Important notes
Translated from Izmeritel'naya Tekhnika, Vol. 63, No. 3, pp. 49–56, March, 2020.
One of the conditions for ensuring the safety of air transport operation is the quality of aviation fuel refueled in aircraft. Fuel quality control is a multi-parameter task that includes monitoring the free moisture content. Regulatory documents establish the free water content of not more than 0.0015 wt.%. A direct electrometric microwave resonator method for controlling free moisture in aviation fuels has been developed. The method consists in measuring the resonance characteristics of a cylindrical cavity resonator. At that, on a solid dielectric surface inside the resonator, there are moisture drops that are pressed by a thin plate. As a result, dielectric losses increase dramatically. Analytical and experimental analyses of the proposed method are carried out. The monitoring range of 0.5–30 μl of the absolute moisture volume in aviation fuels with a maximum error of no more than 25% is justified. The sensitivity of the proposed method for monitoring microwave losses in free moisture drops transformed into a thin layer by pressing with a thin plate is an order of magnitude higher than the sensitivity of the method for monitoring microwave losses in moisture drops on a solid surface in a resonator. The proposed method can be used as a basis for the development of instruments for monitoring the free moisture of aviation fuels in airfi eld and laboratory conditions. The direction of development of the method is shown.