2019 | OriginalPaper | Chapter Open Access
15. Migration in the Hindu Kush Himalaya: Drivers, Consequences, and Governance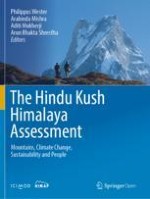 Authors: Tasneem Siddiqui, Ram B. Bhagat, Soumyadeep Banerjee, Chengfang Liu, Bandita Sijapati, Rashid Memon, Pema Thinley, Michiko Ito, Orzala Nemat, Ghulam Muhammad Arif
Publisher: Springer International Publishing
Key Findings
1.
Migration drives a broad range of economic, social and political changes throughout the HKH, while migration itself is determined by multiple factors
. The decision to migrate is influenced by demographic, economic, environmental (including climate change), political and social drivers, as well as by individual and household characteristics, and intervening obstacles and facilitators. In most situations in the HKH region, economic drivers will continue to be the most influential among the drivers. The aspirations of youthful populations, concentration of higher education opportunities in urban centres, ever widening transportation infrastructure and continuous improvement in digital communication will bolster the influence of the economic driver.
2.
Labour migration contributes significantly to poverty reduction in the HKH region, although this depends on who is able to move, and under what conditions
. The effects of migration in sending areas in the HKH region depend on the characteristics of sending household, financial institutions, markets, migration type, public amenities, social networks and social structures.
Migration can be seen as a way to promote resilience to climate change, but investment in agriculture or climate adaptation is rarely the first priority of migrant households in mountainous area
. Generally, remittances are invested in consumer goods, education, food, health care, and housing.
3.
Issues associated with internal migration remain peripheral to the policy discourse of most HKH countries, even though more than three times as many people migrate internally compared to international migration
. Moreover, policymakers and planners tend to perceive rural to urban migration as a challenge to urban and rural development. There is a need to mainstream migration in development policies and programmes.
Policy Messages
1.
HKH countries focusing on development will be more successful if policy makers approach migration not as a challenge, but instead seek ways to mainstream it into adaptation, development and risk reduction processes
. Such mainstreaming can occur within national policy processes and sub-national programmes associated with the Sustainable Development Goals, the Sendai Framework for Disaster Risk Reduction, and the United Nations Framework Convention on Climate Change. Governments could create enabling conditions that help people to choose whether they migrate to another place or stay where they are, rather than explicitly or implicitly attempting to prevent migration. For this,
policy makers, researchers as well as grass roots NGOs in the HKH countries urgently need quality data on seasonal migration, remittances, and reintegration of returnee migrants
. To understand better the effects of migration in mountain areas, the census and national sample surveys need to provide mountain-specific data.
2.
Social protections—such as the right to access public amenities and services—should be made portable across administrative boundaries
. To ensure portability of rights and entitlements, special efforts may be needed in countries with a federal model of governance to address the problems faced by internal migrants in accessing social security programmes in destination communities.
3.
Measures to reduce migration costs and decentralize migration governance are required if low-income households are to benefit fully from migration
. For instance, opening labour offices (that issue work permits or have help-desks) in the district centres could improve accessibility among migrant workers from low-income households and female migrants. This would make the migration process safer and strengthen migration governance. Such measures will also enhance the benefits of migration for the sending families—especially female family members.
For the countries of the Hindu Kush Himalaya (HKH) region, the importance of migration continues to be significant for livelihoods. Migration governance, therefore, is a critical priority
(
well
-
established
). This chapter focuses on labour migration in the eight HKH countries. It explores the countries' overall migration experience and, where possible, highlights findings specific to mountain areas of the HKH.
Migration generally leads to changes in sending households and origin communities
(e
stablished but incomplete
)
. Assets are created; livelihoods are diversified. People in these households and communities gain better access to food, and they are more likely to have a safety net during a crisis. They are better able to access information. They acquire new knowledge and skills. Their social networks expand.
Remittances from migrants can have both positive and negative effects on the remittance-receiving households and origin communities, depending on context-specific factors
(
established but incomplete
)
. Among these factors are the type of migration; the stage in the migration cycle; the asset base of the sending household; and the institutions and generic development conditions present in the origin community.
Migration governance in the HKH comprises various national, regional and international policies and frameworks
(
well
-
established
)
. Both national polices and regional and international instruments govern migration from and within HKH countries. The range and coverage of these policies vary significantly by country. Where international migration is seen as a significant issue—as in Bangladesh, India, Nepal, and Pakistan—it is governed by comprehensive policies and regulations and by nodal ministries.
Over time, major origin countries have increasingly recognized that migration can promote economic development—through decent wages for migrant labour, and also through the earning of foreign exchange
(
established but incomplete
)
. Accordingly, some countries have acted in various ways to facilitate international migration
(
established but incomplete
)
. These measures include establishment of a migration governance system; reducing migration costs; streamlining the remittance transfer process; assisting the reintegration of returnee migrants; and engaging the diaspora in national development.
Earlier, international migration governance was based on regulation and control
(
well
-
established
)
. Governments have sought to manage recruitment, introduced restriction on movements of certain categories of workers (such as unskilled women). Some of the HKH countries have criminalised irregular and undocumented migration. Nonetheless, protection mechanism in both origin and the destination countries remained weak. In recent times some of the HKH governments have introduced new migration polices, framed new laws, created a separate ministry, among other actions
(
established but incomplete
)
. For example, the Government of Nepal is trying to set a basic condition for a job contract whereby the employer is responsible for bearing the cost of the visa, ticket, and all other related expenses for the worker. The prospective migrant requires to pay only for services such as pre-departure orientation training, medical check-ups, the government-mandated worker's welfare fund and insurance.
Along with international migration, the HKH also experiences internal and cross-border migration. Urban centres are attractive to the migrants due to access to employment opportunities, urban amenities and services (e.g. education, electricity, healthcare and water), and opportunities for participating in the market. A lack of adequate education facilities, particularly opportunities for higher education, is a common reason for the youth to migrate to urban centres. Mountain communities are increasingly better connected with major market centres due to development in communication and transportation.
On internal migration, most HKH countries have public policies that reflect a strong sedentary bias: migration is perceived as a challenge to urbanization and planning processes. Discussion on internal migration in the context of urban development mostly concentrates on measures to reduce migration from rural to urban areas. This negative attitude towards internal migrants is often supplemented by a "sons of the soil" ideology
(
well
-
established
)
.
Internal migrants to urban areas of HKH countries—who are relatively less educated, less skilled, and employed in the informal sector—experience exclusion of various nature
(
established but incomplete
)
. Denied their rights, these internal migrants hardly enjoy social security such as public food distribution. They lack access to education and health care. Most importantly, they lack entitlement to housing at their migration destination, because they lack proof of identity and residence. In many cases they and their families end up living in informal settlements, with limited access to public amenities.
These forms of exclusion limit the benefits of rural to urban migration
(
well
-
established
)
. Moreover, they create new risks for internal migrants and their families
(
established but incomplete
)
. Accordingly, vulnerable internal migrants in HKH countries—who work in marginalised areas such as domestic work, construction, hawkers, and security guards—should be supported with new social protection measures.
Many regional and international instruments are important for the governance of migration. The countries of the HKH have acceded to some of these instruments more than others. Recently, major sending countries in the region—Afghanistan, Bangladesh, China, India, Nepal, Pakistan—have joined regional consultative forums, such as the Colombo Process and Abu Dhabi Dialogue. A few of them have ratified the 1990 UN Convention on the Protection of All Migrant Workers and Members of Their Families.
1
But none of these countries has ratified the ILO Conventions that are considered significant for migrants: the Domestic Workers' Convention (2011) (C189),
2
the Migrant Workers (Supplementary Provisions) Convention (1975)
3
(No. 143), and the Private Employment Agencies Convention (1997)
4
(or C181)
(
well
-
established
)
.
A significant development for the HKH in recent years has been the expansion of laws and policies against human trafficking
(
established but incomplete
)
. Countries in the region have shifted away from a narrow definition of trafficking—limited to intended commercial sexual exploitation—to a broader interpretation that includes labour trafficking, slavery, bonded labour, organ trade, and drug trafficking. Laws in Bangladesh and Nepal have enabled the creation of special funds to support victims. Although gaps remain in the implementation of these anti-trafficking laws and policies, the changes are welcome.
A challenge to analysing migration's effects across the HKH is that certain countries in the region, such as Nepal and Afghanistan, are mostly mountainous, whereas others are not. For example, only a small part of Bangladesh (the Chittagong Hill Tracts) belongs to the Himalaya mountain system. Whereas Nepal's experience—as a country—of short-term international contractual migration can generally be applied to its mountain areas, Bangladesh does not allow for such generalization: its national data may not reflect any conditions specific to the mountains
(
well
-
established
)
.
Migration and the Sustainable Development Goals
Two Sustainable Development Goals (SDGs) directly pertain to migration governance. The first of these is SDG 8:
Promote sustained, inclusive and sustainable economic growth, full and productive employment and decent work for all
. Under this goal, Target 8.8 especially highlights the need to protect migrant workers: "Protect labour rights and promote safe and secure working environments for all, including migrants, in particular women migrants, and those in precarious employment." Other targets under SDG 8 with implications for migrants include 8.2, 8.5, and 8.10.
The second SDG with targets focused on migrants is SDG 10:
Reduce inequality within and among countries.
Two targets under this goal call for efforts specifically related to migration:
Target 10.7—"Facilitate orderly, safe, regular and responsible migration and mobility of people, including through the implementation of planned and well-managed migration policies."

Target 10.C—"By 2030, reduce to less than 3% the transaction costs of migrant remittances and eliminate remittance corridors with costs higher than 5%."
Beyond SDGs 8 and 10, migration will also be affected by initiatives under the SDGs to end hunger (Targets 2.4 and 2.C); to educate and develop skills equitably, including for women and the marginalized (Targets 4.4, 5.A, 13.B); to promote inclusive cities, with safe, affordable housing and secure living conditions (Targets 11.1. and 11.5); and to meet a range of other development objectives (Targets 1.5, 6.4. 6.5, 6.6, 9.1, 9.C, 13.1).
Households in the HKH adopt migration as a strategy to increase their income, diversify their livelihoods, seek a better life, and manage risks arising from various stresses and shocks. As countries in the region pursue their development priorities, they should emphasize programmes that provide for social inclusion, social protection, and adaptation planning. Countries can unlock the potential of migration by reducing its risks—protecting households against the possibility that migration will erode their assets. Other recommended steps are to make the policy response on human mobility comprehensive; to enable migrants to benefit from government development initiatives, including the response to climate change; and to bring remittances into development planning, exploring how they may enhance capacity in communities of origin.
15.1

Labour Migration in the HKH: A Challenge and Opportunity for Inclusive Growth

Migration has become an integral part of current global development process. As per United Nations Department of Economic and Social Affairs (

2013a

, p. 25) in 2005, 763 million people have moved within their own countries and another 232 million people have moved outside their countries of origin (United Nations Department of Economic and Social Affairs

2013b

). This chapter is on internal and international labour migration from the Hindu Kush Himalayan (HKH) region. Across the HKH countries population movement is widely perceived as a challenge. However, there is a growing understanding that it can also open up new opportunities for development for those who migrate, their left behind families, communities of their origin as well as to the national economies of origin and destination areas and countries. Emerging research shows that a large number of climate change affected households in this region have been using labour migration as one of the many adaptation tools. Remittances sent by the migrants are being used in disaster risk reduction. In the past mainly men migrated for work, and women were left behind, or, accompanied the men as spouse. Since the beginning of the new millennium, an ever increasing number of women are participating in labour migration in some of the HKH countries. This chapter attempts to understand the dynamics of labour migration in this region. One of the major goals of the chapter is to consolidate the current state of knowledge on migration, and where possible, collate mountain-specific information on migration. It concentrates on three areas of migration research: drivers, consequences, and governance of labour migration.

There are several challenges in analysing migration in the HKH region. For one, most parts of Afghanistan, Bhutan, and Nepal are considered to be within the HKH whereas only a small part of Bangladesh belongs to the Himalaya. Therefore, while the experience of short-term international contractual migration of Nepal, for example, can be generalized for the mountain and mid-hill areas of the country, such a generalization is not possible in the Chittagong Hill Tracts of Bangladesh. Unlike other parts of Bangladesh, three districts of Chittagong Hill Tracts (i.e., Bandarban, Khagrachhari and Rangamati) hardly had any experience of short-term international migration. In the case of China, India, and Myanmar, different patterns and characteristics of population movements are observed in different parts of mountain regions of these countries. Hence, it is challenging to meaningfully analyse the implications of labour migration, particularly for the areas belonging to the HKH region. Absence of mountain specific data in nationally representative sample surveys is another challenge. Data that are generated at the country level are not gathered following common standardized definition and method. This limits the scope of cross-country comparisons. Besides, the available migration data from country level census is unlikely to cover circular and temporary migration. Though the data on international remittances have been improving over the past decade, data on domestic remittances remains scarce and scattered in several HKH countries.

The chapter is divided into five sections including this introductory one. Section two presents the country-specific migration patterns. Section three looks into what drives labour migration from the mountain areas of these countries. Section four presents consequences of labour migration for mountain communities. Section five analyses the governance of labour migration in the HKH region. Section six draws some key conclusions.
15.2

Diverse Trends, Consistent Importance of Migration

This section provides a brief country-specific overview of the diverse patterns of migration and remittance flow in the HKH. All HKH countries, except Afghanistan and Bhutan, show an increasing stock of emigrants (see Fig.

15.1

). Figure

15.2

shows that the countries of the HKH region received a considerable amount of remittances. There has been a sharp rise in remittances in countries like Bhutan and Myanmar in recent years (see Fig.

15.3

).
×
×
×
15.2.1

Afghanistan: Mixed Flows

Afghanistan's migration patterns are perhaps the most unique across the world. The country in its recent history produced one of the highest number of refugees and internally displaced persons, while it has also become the largest recipient of returnees (Norland

2016

). The history of internal, regional and international displacement in Afghanistan is directly linked to its political, economic and social formations, and in particular, it is linked with protracted years of war and conflict. Since 1979 when Afghans left the country due to Soviet invasion, the net negative migration rate was 56.7/1000 persons; between 1990 and 1995 it reversed to positive net migration of 44.4/1000 persons, and under the Taliban regime (1995–2000) this rate sank below parity to −6.5/1000 persons (International Organization for Migration

2014

). Over 320,000 Afghans returned in 2016 alone. The country has become the largest recipient of returnees in comparison to all European and South Asian countries put together (Norland

2016

). There are 2.5 million Afghan refugees still living in Pakistan; of them 1 million are registered, and 1.5 million are unregistered (or undocumented) and hence cannot access United Nations High Commissioner for Refugees cash grants or get verified as refugees for getting support (Ahmadi and Lakhani

2017

). There are 950,000 Afghan refugees in Iran and returns from Iran during 2016 were 436,236 undocumented and 2305 documented (Ahmadi and Lakhani

2017

). Many of returnees from both Iran and Pakistan are considered 'voluntary returnees'. However, in reality the repatriations are often coercive with refugees left with little choice to remain (Ahmadi and Lakhani

2017

). Despite this fact, Pakistan still remains the first destination for the Afghan refugees. Over 1.2 million persons are displaced internally. The majority of internally displaced Afghans come from four provinces: Kundoz (northern), Uruzganan and Helmand (southern) and Farah (western). During 2016, more than half of the IDP population (56%) were children (Bjelica

2016

). Afghanistan is also the second largest source country for refugees globally. There are 2.7 million Afghan refugees across the world (United Nations High Commissioner for Refugees

2017

).
15.2.2

Bangladesh: Moving Within and Beyond

With a population of 160 million, Bangladesh is the most densely populated country of the HKH region. In 2015, 90 out of every 1000 people moved from rural to urban areas (Bangladesh Bureau of Statistics

2016

). Bangladesh is rapidly becoming urban. Rural-urban population movement is one of the major reasons behind such urbanization. Seasonal migration is also extremely common in Bangladesh. However, there is little data on this.

Since 1970 Bangladesh has been participating in the short-term labour market of the Gulf and other Arab countries, and Southeast Asia. Traditionally only men participated in this market. Since the lifting of the ban in 2003, the number of female migrants also started increasing. In 2016 around 750,000 persons migrated overseas for employment. Sixteen percent of them were women. Bangladeshi workers mostly get jobs under unskilled and semi-skilled categories. However, as the Bureau of Manpower Employment and Training of the Government of Bangladesh considers domestic workers as skilled, government statistics show quite a high proportion of skilled workers. Bureau of Manpower Employment and Training data indicate that among the total migrant workers who went abroad in 2016, 43.1% were skilled, 40.08% were less skilled, 15.83 were semi-skilled, and 0.61% were professionals (Bureau of Manpower Employment and Training

2016

). The education level of those who participate in the short-term international labour market is lower than that of people who migrate from rural to urban areas for work (Siddiqui and Mahmood

2015

). Eighty-one percent of the total workers who migrated in 2016 moved to Gulf and other Arab countries, and the remainder migrated to Southeast Asia. Oman, Saudi Arabia, Qatar, Bahrain, and Singapore were the major destinations of Bangladeshi migrant workers in 2016 (Bureau of Manpower Employment and Training

2017

). However, international short-term migration from three hill districts of the Chittagong Hill Tracts region is almost non-existent. The flow from Bandarban, Khagrachhari and Rangamati constituted 0.12%, 0.07% and 0.06% respectively of the total flow in 2016. (Refugee and Migratory Movements Research Unit

2017

). More importantly, people from these three districts who participate in migration are from the Bengali community; the ethnic hill population does not have representation in international migration. Since the Peace Accord of 1997, internal labour migration from the CHT has been increasing. Indigenous male population from this area mostly migrate to export processing zones of Chittagong Division to work in the manufacturing sector and to the mega city of Dhaka where they have created a niche as security guards. Women participate in the manufacturing sector and domestic work.

Bangladesh is a major remittance receiving country. As per World Bank data from 2014, its position was 10th in the world (The World Bank

2016a

). The flow of remittance dropped substantially in 2016. That year Bangladesh received USD 13.6 billion. The figure was almost 11% less than in the previous year (Bangladesh Bank

2017

). A similar decline in remittance inflow was experienced by India and Nepal. Drop in oil prices, low economic growth in the Gulf region, and depreciation of Euro and Pound Sterling have been identified as major reasons (The World Bank

2016a

). Saudi Arabia is still the most important source of remittance for Bangladesh, followed by the UAE, USA, and Malaysia.
15.2.3

Bhutan: A Closed Mountain State?

Bhutan has an estimated population of 764,667 people of whom 30.6% live in the urban areas and the remainder continue to live in the rural areas (Ministry of Labour and Human Resources

2015

). A study by the Ministry of Agriculture and Forest (

2013

, p. 1) estimated that 21.4% of the total population are migrants. Between 2000 and 2013, the migration rate in Bhutan was estimated to be 10.9/1000 people (Ministry of Agriculture and Forests

2013

). One of the key issues facing Bhutan is the migration of people from rural to urban areas. It has been reported that nearly 65.6% of rural households have at least one member who has migrated to an urban centre (Ministry of Agriculture and Forests

2013

). Urban centres in Thimphu dzongkhag were destinations of one-third of the migrants. Previous research has shown that lack of employment opportunities, limited access to education, small landholding, limited access to market, and limited access to other services (e.g. health and motor-roads) are the major reasons why people leave their rural homes (Ministry of Agriculture

2006

; Ministry of Agriculture and Forests

2013

). Out-migration from Bhutan is minimal and consists mostly of Bhutanese students studying abroad. Bhutan also receives immigrants, particularly temporary migrant workers from India, who mostly work in the construction sector (Ministry of Labour and Human Resources

2015

).
15.2.4

China: Inter-provincial Migration
15.2.5

India: Long-Distance Internal Migration

Internal migrants account for 37% (453 million) of the country's population as per the 2011 census of India. Compared to internal migration, the stock of emigrants was 15.5 million i.e., about 1.2% of India's population (United Nations

2015

). Increasing urbanization and development of growth centres in urban locations are contributing to internal migration in India. Rural to urban migration has been contributing substantially to urbanization and the rural-urban demographic composition of households. The rural households are increasingly dependent on urban resources and non-farm jobs as urbanization has been shaping rural-urban relationship through various flows of goods and services, financial flows, and movement of people. Several parts of the Indian Himalayan region have been urbanizing fast, which influences mobility of labour (Lusome and Bhagat

2013

; Mohanty and Bhagat

2013

). Increasing urbanization is also accompanied by a change in mobility among women. Although women predominantly migrate due to marriage and family related reasons, a significant proportion of them are now joining the workforce after migration (e.g. domestic work and construction sector). A large number of placement agencies are involved in the recruitment process (Neetha

2003

; Srivastava

2012

).

Emigration from the Indian Himalayan region is lower compared to that from the plains. The emigration is largely influenced by a higher socio-economic status, a network of emigrants and emigration infrastructure (Bhagat et al.

2013

). On the other hand, inter-state migration from the Himalayan region is higher than that from the plains.

India is the world's largest remittance recipient. As per the World Bank, in 2014 India received USD 70 billion, which declined to USD 62 billion in 2016.

6

The survey-based estimates show that household remittances sent by internal migrants in 2007–2008 were twice those sent by international migrants for the same period (National Sample Survey Organization

2010

). Further, in the Indian Himalayan region a relatively higher proportion of households (12%) received remittances compared to the non-Himalayan part of the country (9%), according to National Sample Survey Organization 64th conducted in 2007–2008.
15.2.6

Myanmar: Through the 'Open Doors'
15.2.7

Nepal: A Remittance Economy?

As reported in the Nepal Living Standards Survey (NLSS) of 2010/11, 53% of households in Nepal have at least one absentee living within or outside the country (Government of Nepal

2011

, p. 133). As per the 2011 Census, this indicates more than two-fold increase in the number of Nepalis living away from the country from 2001 to 2011 (Government of Nepal 2012). The figures for labour migrants are equally significant with a total of 2,723,587 labour permits issued by the Department of Labour and Employment from 2008/2009 through 2014–2015 (Government of Nepal

2016

). While men account for approximately 96% of the labour permits issued between 2008 and 2015, the number of females seeking employment has increased by 2.5 times over the same period (Government of Nepal

2016

, pp. 7–8). According to data available at the Department of Foreign Employment (DoFE), 47% of migrants are from the age group 26–35 followed by age group 36–45 (26%). There is no significant variation in the age categories of male and female migrants (Government of Nepal

2016

).

In terms of destination, the data available from DoFE does not include migrant workers going to India since labour permits are not required for India, and to the Republic of Korea since workers migrate through the government-to-government agreement (Government of Nepal

2016

). However, if one were to include these countries, the 2011 census figures indicate that the percentage of Nepalis going to India is equal to those headed towards the Gulf (approximately 38%) followed by the ASEAN countries (13%) (Government of Nepal

2013

). The proportion of Nepali migrants going to India has however considerably decreased, from 77.2% in 2001 to 37.6% in 2011 (Government of Nepal 2014). Primary destinations include Malaysia and the Gulf countries, which account for 85% of the labour permits issued during the same period (Government of Nepal

2016

). There is however a slight variation in the destination countries for women and men with a higher percentage of men going to Malaysia, Qatar, and Saudi Arabia, where the demand for construction workers is higher, while the proportion of females is higher for countries like the UAE and Kuwait, where women are mostly employed as domestic workers (Government of Nepal

2016

).

Overall, this increasing trend of Nepalis migrating for employment abroad has meant that the percentage of remittance-recipient households has increased from 23% in 1995–1996 to 56% in 2010–2011 (Government of Nepal

2011

). Currently, remittances contribute about 30% of the country's GDP—a significant increase from 10.9% in 2003/2004 (Nepal Economic Forum

2014

), making Nepal the third-highest recipient of remittances as a share of GDP among all countries in the world (The World Bank

2014

). Remittances to Nepal rose dramatically in response to the earthquake, growing by 27.6% in three months from April to June 2015 compared to the same period the year before. However, following this peak, inflow of remittances has slowed down registering a single digit growth by January 2016. Between February and April 2016, remittances have contracted by 5.3% (in USD terms) compared to the same period of the previous year (The World Bank

2016c

).
15.2.8

Pakistan: Diverse Flows

Labour migrants moving internally in Pakistan account for approximately 2% of the population—a rate that has been roughly constant over the last twenty years.

7

Given the country's size, however, this suggests a stock of 36 million migrant workers at any given period of time. The stock of international migration is much smaller at 9.6 million (1971–2016).

8

That being said, the flow of international migration has seen a strong uptick since 2005. The number of workers emigrating annually has steadily increased from roughly 150,000 in 2005 to roughly 850,000 in 2016.

9

In terms of areas of origin, nearly 45% of emigrants are from the 10 HKH districts of Abbotabad, Bannu, Lower Dir, Kohat, Mansehra, Mardan, Mirpur, Muzaffarabad, Poonch, and Swat. In terms of gender, only 4% of internal migrants are women while the gender composition of international migrants is unknown (Pakistan Bureau of Statistics

2011

).

In 2016, 90% of international flows were towards just two countries, UAE and Saudi Arabia, popular destinations for Pakistani workers since the 1970s. Anecdotal evidence suggests that these flows generally consist of young single men. Moreover, the skill levels of the emigrants also appear to be improving over the years, suggesting an impact on the magnitude of the remittances (Amjad et al.

2015

). In fact, remittances have increased from roughly USD 1.5 billion in 1998 to USD 13 billion in 2012, i.e. from 2.0% (1998) of GDP to 6.2% (2012). Perhaps more importantly, data from 2012 suggest that remittances constitute roughly half of the exports of goods and services and thus provide critical balance of payments support (Amjad et al.

2015

).

Few studies have looked into the impact of remittances at the household level. Ahmed et al. (

2010

) show that the mean expenditure of a migrant household is 41% higher than that of a non-migrant household. Remittances have a positive effect on the shares of household expenditures on food, education, clothing and recreation. The highest increase is in the expenditure share on durables at 74%. The budget share of education increases only by 2.9%. Moreover, the impacts of remittances on household welfare were strongest in rural rather than urban Pakistan.
15.3

Diverse Trends in Migration

Migration decision depends upon individual, household, and community characteristics, interplay of intervening obstacles, and influence of demographic, economic, environmental, political and social factors. Due to complex interactions between these drivers, it is rarely possible to identify individuals whose migration decision was solely influenced by one particular driver. Despite the existence of migration drivers, whether migration occurs or not depends on a series of intervening factors and personal household characteristics (Black et al.

2011

).
15.3.1

In Search of a Better Life

The economic prospects of the plains and urban areas contrasts with the slower economic development of mountainous areas; with livelihood opportunities in the latter, particularly in the rural areas, generally limited to primary sector (Kollmair and Banerjee

2011

). The farm sector in this region is constrained by low productivity and underemployment. It is undermined by environmental shocks and stresses, land degradation, land-use regulations, price fluctuations, lack of access to formal credit and lack of market access (Bohle and Adhikari

1998

; Huo et al.

2006

; Liang and Ma

2004

; Olimova and Olimov

2007

). The urban and peri-urban areas provide easier access to non-farm income opportunities, especially the informal sector, to rural households. In Bhutan, internal migration flows primarily to the economic hubs of the country—Paro, Chukha, and Thimphu—from the rural areas (Ministry of Agriculture and Forests

2013

; Ura

2013

). Similarly, in Afghanistan, Kabul receives the largest number of migrants (mostly men, aged 15–45) followed by Jalalabad et al. (Opel

2005

). Respondents of two Chittagong Hill Tracts districts of Bangladesh identified a wide range of economic reasons from low wage in the area of origin and better income opportunities at the destination to desire for economic betterment and coming out of poverty (Siddiqui and Billah

2014

). Unlike in most other developing countries, in Bhutan people migrating to urban areas are relatively well-off and have a certain level of qualification (Ura

2013

). In Afghanistan, the deterioration of the overall security situation as well as lack of job opportunities across the country has also led to an increase in migration from the villages to urban centres (Opel

2005

). People who leave rural areas find limited opportunities in the urban centres due to their limited capacities. Despite this, the rural-urban migration in Afghanistan is rising rapidly (Government of the Islamic Republic of Afghanistan

2015

).

Migration outcome is also influenced by pre-migration wealth and skill level. Rich households have more choices with respect to migration destination. Those who migrate to developed countries belong to the rich and middle-income households or to the highly skilled category. A majority of those who migrate to the Gulf region, other Arab countries and Southeast Asia to do unskilled work are not from rich or middle-income households but they are mostly from households above the poverty level. Poorer people are likely to opt for rural-to-rural and rural-to-urban, seasonal and temporary internal migration with lower salaries and wages and thus low remittances.
15.3.2

Better Educated, Better Connected

Education has emerged as an important social determinant of migration. The lack of adequate education facilities and limited access to better education was the most commonly cited reason for leaving rural homes in Bhutan (Ministry of Agriculture

2006

; Ministry of Agriculture and Forests

2013

). The same is true with mountainous areas of upper Myanmar where there is critical shortage of education infrastructure coupled with ongoing instability; as a result, larger proportions of people migrate for education (Department of Population

2015

). At the same time, most of the migrants from this region have some form of education. The literacy rate of the migrating population in Bhutan is considerably higher than the national average (Ministry of Agriculture

2006

). In Nepal, Massey et al. (

2007

) found that each additional year of schooling raised the odds of long distance migration by a highly significant 5%.

Migration requires certain resources to meet the costs; therefore, it may not be a feasible strategy for all households. In Uttarakhand state of India, persons belonging to socially dominant castes, which have better access to education, financial resources and social networks, are more likely to migrate (Jain

2010

). Further, as the experience of Nepal suggests, the choice of destination is determined by several factors such as the socio-economic status of households (Bhandari

2004

; Jain

2010

), stage in migration cycle, type of aspired job, labour requirements at home, familiarity with destination, and migrant networks (Bruslé

2008

). Social networks based on familial affiliation to a social or cultural group influence people's decision to migrate and choice of destination. These networks support migration by extending loans, assisting with logistics, arranging jobs and accommodation, and providing emotional support to the migrant or the family left behind. Benz (

2016

) reported that assistance from one generation of migrants from Gilgit-Baltistan allowed subsequent migrants to find employment or to enroll in a higher-level education. In a study in Chittagong Hill Tracts in Bangladesh by Siddiqui and Billah (

2014

), 37% of the respondent households reported that although they wanted to send family members to seek work elsewhere, they could not since they did not have information on work opportunities outside the village. They also did not know anyone at the destination (Siddiqui and Billah

2014

).

Though mountain communities are increasingly better connected to large market areas of the region due to development in communications, electrification, and transportation (see Benz

2016

; Kreutzmann

2004

; Olimova and Olimov

2007

) but the relationship of this progress to migration is still ambiguous. Migration may be a consequence of the structural changes in mountain areas. Urban centres are attractive to potential migrants because of access to employment opportunities, access to urban amenities and services such as education, health, electricity and water, and opportunities for participating in the market. According to the Ministry of Agriculture (

2006

), rural to urban migration is a significant contributor to the urbanization process in Bhutan as 72% of all urban dwellers could be classified as migrants from rural areas. Increased urbanization has been a significant cause of rural to urban migration in the Indian Himalayas (Lusome and Bhagat

2013

; Mohanty and Bhagat

2013

). In Afghanistan, though, Ghobadi et al. (

2005

) found households that resided in communities with more irrigated land and services (e.g. markets, public transportation or health facilities) showed lower probability of migration.
15.3.3

Young Men and Women on the Move

Demographic factors such as age, gender, and household composition influence the migration process. Since the establishment of the current political setting in 2001, patterns of international migration from Afghanistan have changed in terms of gender and age group. For instance, most migrants from Afghanistan to the United Kingdom in 2001 were young men in their 20s and 30s. In 2006 the number of unaccompanied minors increased. Although the majority of Afghan migrants are still young males, the number of female migrants—who are married to Afghan residents in other countries—has increased since 2008 (Hall

2013

). Ministry of Agriculture and Forests (

2013

) reports that the economically and physically active population migrated the most in Bhutan. Ura (

2013

) indicates that 61.2% of migrants in Bhutan comprised young people in the age group of 10–34 years, majority of whom were men. Although men still dominate migration flows in China, the gap between male and female participation in the migrant labour force is narrowing, especially among cohorts aged between 16 and 20 years old (Li et al.

2013

). Male migrants accounted for over 95% of the labour permits issued by Department of Foreign Employment in Nepal between 2008 and 2015 (Government of Nepal

2016

). A study in Chitwan district of Nepal by Massey et al. (

2007

) reports that while the likelihood of local mobility and long-distance migration declined with rising age; this effect was more pronounced for the former rather than the latter. The low participation of women in labour migration in this region (especially Afghanistan, India, Nepal, and Pakistan) can be explained by women's lack of education and exposure to migration opportunities as well as the traditional division of labour by household, which requires women to oversee domestic responsibilities (Hoermann et al.

2010

). Marriage is a major reason for female migration in the entire HKH region. Gender and other forms of social inequities are some notable drivers of migration; severe exclusion is one of the factors that compel people to migrate. A few studies on female migration have identified family violence and/or broken homes as a reason for women's migration from Nepal

(

Bhadra

2013

; International Labour Organization

2015

)

. In Bangladesh some women migrated to accumulate resources to bear the cost of their own or their family members' wedding including dowry (Siddiqui

2008

).
15.3.4

States Policies Shape Migration

States policies seek to either explicitly or implicitly control migration, or may have an independent effect on whether people move or not. A hukou classifies China's citizens as either rural or urban residents. Without an urban hukou, migrants and their families have limited access to urban public services, including housing, healthcare, social security, and above all, education. The education of migrant children has become one of the major challenges for both migrant families and the Chinese education system. In China, public schools are supposed to provide free education to children. However, the free education is only guaranteed to children whose hukou matches the school's location (Fu and Ren

2010

). Since migrant children in cities still retain their rural hukou, they are allowed to enroll in urban public schools only if there is available space. In many cases migrant parents can only enroll their children if they are willing and able to pay steep out-of-district tuition fees. Though in a case study in Uttarakhand state of India, Jain (

2010

) suggests that Mahatma Gandhi National Rural Employment Guarantee programme had reduced the need for seasonal migration, mainly among unskilled or less educated persons, the impacts of this programme on migration remains ambiguous. The Government of Nepal in August 2012 placed another ban on women less than 30 years of age from migrating abroad to work as domestic help. The ban was lifted in 2016, but on the condition that the minimum wage requirements for domestic workers have been met (Government of Nepal

2015

; International Labour Organization

2015

).

In turn, other policies seek to facilitate migration. The open border between India and Nepal was recognized by the India-Nepal Treaty of Friendship of 1950. This permitted the citizens of either country a visa-free entry into the other country and stay as long as desired (Adhikari et al.

2008

; Subedi

1991

). For the poor, acquiring official documents such as a passport could often be an insurmountable challenge (Hoermann and Kollmair

2008

). However, the open border between India and Nepal allows them to use other national identification documents. For example, an Indian citizen could use any one of the following documents to enter Nepal: Driving license with photo, election commission card with photo, identity card issued by Embassy of India in Kathmandu, identity card with photo issued by Sub-Divisional Magistrate or any other higher ranking officials, passport, photo identity card issued by a government agency or ration card with photo.

10

A Nepali citizen could establish his/her identity as a Nepali citizen using a citizenship certificate, limited validity photo-identity certificate issued by Nepalese Mission in India passport or voter's identification card.

11

There is no legal regime for labour migration between India and Bangladesh. However, migration for work does take place between the two countries, but flows are mostly irregular. Those who migrate from Bangladesh are less skilled workers. Men mostly work as agricultural and day labourers, waste collectors, rickshaw pullers, and cleaners; women mostly work as domestic workers. Those who come to work in Bangladesh from India are mostly skilled workers. They work in the garment and other manufacturing sectors as well as health and service sectors (Siddiqui

2006

). There is no authentic data available on Indians working in Bangladesh and Bangladeshis working in India. The issue of migration between these two countries is highly politicised. India does not figure in the remittance inflow data of the central bank of Bangladesh (Bangladesh Bank

2017

).
15.3.5

Migration: A Strategy for Climate Change Adaptation

Migration patterns are shaped by interaction between demographic, economic, environmental, political, and social drivers (Intergovernmental Panel on Climate Change

2014

). Mere existence of these migration drivers does not ensure migration as an outcome, which is determined by intervening factors as well as household and personal characteristics (Black et al.

2011

). Though climatic events and trends are likely to influence these patterns (Intergovernmental Panel on Climate Change

2014

), it is extremely complex to establish a causal relationship between environmental change (including climatic stressors) and migration. Moreover, various forms of human mobility (e.g. displacement, migration, and relocation) could be observed in the communities affected by disasters and environmental change. Some case studies (Banerjee et al.

2011

; Bohra-Mishra and Massey

2011

; Massey et al.

2007

,

2010

; Mueller et al.

2014

; Shrestha and Bhandari

2007

; Siddiqui and Billah

2014

) specifically focus on the relationship between environmental change and migration in the HKH region. Migrant and non-migrant households of two Chittagong Hill Tracts districts highlighted 28 types of environmental and climatic hazards that have led some households or their members to migrate. These are irregular rainfall, temperature rise, deforestation, river erosion, landslide, drought/lowering of water level and flash floods. These hazards had profound impact on their ecosystem, resulting in the drying of mountain streams, shortage of water for irrigation and drinking, increased sedimentation and reduction in

Jhum

production. Over time many of the people left their villages in search of employment; many households now have one or more members working in other places (Siddiqui and Billah

2014

). A case study in the Chitwan valley of Nepal reported that local mobility (within the Chitwan valley) was more likely to be influenced by environmental change rather than long-distance mobility (outside the Chitwan valley) (Massey et al.

2010

). Another case study in the same area by Bohra-Mishra and Massey (

2011

) found a strong and consistent relationship between a local move (within Chitwan district) with neighbourhood density, increase in time required to collect fodder and firewood, and decline in agricultural productivity. This study also reported that environmental deterioration had little influence on migration outside Chitwan district (other districts in Nepal or overseas). However, an increase in time to collect firewood did increase the likelihood of male migration to other districts of Nepal or overseas (Bohra-Mishra and Massey

2011

). A study by Mueller et al. (

2014

) found that heat stress increased long-term migration of men in rural Pakistan between 1991 and 2012. This migration was mainly driven by negative effects of heat stress on farm and non-farm income. A study by Banerjee et al. (

2011

) in four countries (China, India, Nepal, and Pakistan) across the HKH region reported that it was more likely that a household member would migrate in search of work in rural communities affected by rapid onset water hazards (e.g., riverine and flash floods) than those affected by slow onset water hazards (i.e., drought and water scarcity). A passing reference to the effects of environmental stressors on migration could be found in some studies (e.g., Ghobadi et al.

2005

; Ministry of Agriculture and Forests

2013

). For example, Ghobadi et al. (

2005

) reported that drought-affected households in Afghanistan are more likely to have members migrate for work than those households unaffected by drought. A report on migration in Bhutan suggested that factors such as predation by wildlife, drying up of water sources, outbreak of pests and diseases, and other calamities contributed to migration (Ministry of Agriculture and Forests

2013

).
15.4

Consequences of Labour Migration for Mountain Communities

In this section, we analyse the ways in which migration outcomes have influenced the drivers of migration or intervening obstacles. In other words, we will be exploring how migration has acted as a driver of change. Lots of evidence on the consequences of labour migration are provided by country level studies. Findings from Afghanistan, Bhutan, and Nepal could be treated as mountain- or hill- specific experience. In the case of other countries, it is a challenge to infer HKH specific findings as only certain areas of these countries belong to the HKH region.
15.5

The Governance of Labour Migration in the HKH Region
15.6

Conclusion

This chapter has provided an outline of the patterns and trends of labour migration from the HKH region. It shows that migration trends are diverse. Internal migration is a feature across the region and the flow is towards major urban centres, as well as to areas of commercial agriculture. Some countries have a longer history of short-term international labour migration to the Gulf and other Southeast Asian countries and some others are recent joiners. There have been significant experiences of cross-border movements for work between India and Nepal, and India and Bangladesh, and from India to Bhutan.

Much migration in the region is gender specific. In the case of Afghanistan it is difficult to disentangle labour migration from refugee flows. Two-thirds of rural families of Bhutan have a member in an urban centre. Labour migration has grown mainly since the early 1990s in China and most migration here is intra-provincial. Long distance internal migration is an important characteristic of labour migration in India. International migration is almost non-existent from HKH region of Bangladesh. Myanmar has both internal and international migration and more than half the internal migrants are women.

The main driver of labour migration in the HKH region is 'search for a better life'. Limited opportunities in mountains reflect high dependence on agriculture, lack of market access and limited livelihood security. Economic growth of urban centres within and beyond the HKH region exerts a strong influence on migration. There is a strong demand for male workers from the mountain but also a growing demand for female workers in the domestic care and hospitality industries. Access to education and social networks are strong drivers of migration. Migration is highly age selective. Environmental degradation and climate stressors can weaken agricultural productivity or heighten risks contributing to labour migration, especially over shorter distance.

Country evidence shows that migration reduces mountain poverty. A significant portion of rural households benefit from migrant remittances. Remittances are spent on consumption, but may also contribute to investment in agriculture and other businesses. Despite fears of negative impacts on left behind children, migration helped increase school enrollment. Migration has contributed to increased political demands including voting rights.

An assessment of governance of labour migration in the HKH region shows that countries with significant international labour migration have developed comprehensive policies and regulations to govern international migration, often with dedicated ministries. However, policies on internal migration are yet to be framed except for a few countries. None of these countries, barring Bangladesh, have ratified the 1990 United Nations Convention on the Protection of the Rights of All Migrant Workers and the Members of their Families. Therefore, labour migration mostly takes place through bilateral agreements or memorandums of understanding. The SDGs specifically endorse policies to reduce the cost of migrant remittances and some HKH governments are actively pursuing these although there are many obstacles. Several countries in the region have specific institutions for the diaspora including overseas offices, welfare funds and diaspora focused financial instruments.

HKH countries face many challenges in governing labour migration. Absence of a comprehensive policy on internal migration in some of the HKH countries keeps the internal migrants outside the purview of government programmes and entitlements. In some areas, polices are restrictive. Countries which have polices on internal migration do not always honour portability of rights. Whether countries have a regulated (India, China) or unregulated (Pakistan) approach to internal migration, there is a strong sedentary bias in policies that affect internal migrants, in contrast to international migration. In the case of international labour migration some common challenges that HKH countries face include high cost of migration, informality of the recruitment process, visa trading and lack of protection from abusive and forced labour conditions. Women who migrate as domestic workers face strict restrictions on movement, long working hours, and in some cases, physical and sexual abuse.
15.7

Policy Recommendations and Way Forward

On basis of the conclusions above, this section attempts to provide some recommendations. As all HKH countries have now reshaped their development goals in line with SDGs, the recommendations have been devised to correlate with relevant SDGs as well. Two SDGs apply directly to migration: Decent Work and Economic Growth (Goal: 8) and Reduce Inequality (Goal: 10). Several other SDGs have relevance for migration in terms of policy development.
15.7.1

Regular, Safe and Orderly Migration

SDG 8 talks about promoting inclusive and sustainable economic growth. Target 8.8 specifically underscores the need to protect the rights and promote safe working environments for migrant workers, including women migrants. Targets 8.5 (

achieve full and productive employment and decent work

) and 8.10 (

access to banking, insurance and financial services for all

) also have implications for migrants.

Target 10.7 specifically calls for facilitating orderly, safe, regular and responsible migration. We have attempted to demonstrate in this chapter that internal and international migrants are quite different and require different forms of support and interventions to ensure safety and stability. In respect to internal migrants, policies regarding urban planning, growth sector development, and climate change adaptation operational in rural and urban areas have to be targeted. Some of these countries impose barrier on internal, rural to urban migration. Relevant policies need to be reshaped on the basis of the demand of labour market.

Restrictive policies in destination countries remains the main hurdle for regular, safe and orderly migration. Destination countries need to frame more pragmatic policies that take into consideration the demand for different types of skills and services. We have argued that, along with bilateral negotiation, countries should encourage multilateralism to set common minimum standards for the migrant workers. The UN convention on Protection of Rights of All Migrant Workers and their Family Members (1990) and International Labour Organization instruments should be honoured in both origin and destination countries. The Kafala system in the Middle Eastern countries and the outsourcing system in some of the Southeast Asian countries need substantial reform. Origin countries also bear responsibility for insuring safe and orderly migration for their citizens. HKH countries are currently experimenting with different governance models in this regard and they can learn much from cross-country exchange among HKH neighbours and beyond.
15.7.2

Protection of Migrants' Right and Social Security

Target 8.8 of the SDGs highlights protecting labour rights and promoting a safe and secure working environment. The 1990 UN International Convention on the Protection of the Rights of All Migrant Workers and the Members of their Families (ICMW) is the most comprehensive instrument of its kind, and has only been ratified by one HKH country: Bangladesh.

This important agreement needs to be ratified by all HKH countries without any further delay. The UN needs to launch a global campaign to encourage ratification of the convention by the destination countries. The UN also needs to ensure that none of the rights of the migrants is compromised in the global compact for migration. HKH countries should advocate for more rigorous protection needs in the consultative forums of Colombo Process, Abu Dhabi Dialogue, and Bali Process. Most countries in the region have ratified the Convention on All Forms of Discrimination Against Women (CEDAW), which includes specific provisions for women migrant workers. During bilateral agreements, HKH countries can pursue protection of women migrants under the auspices of CEDAW.

The Rights of Internal Migrants are protected by the national laws of HKH countries. Decent work conditions entail the right to work, rights at work, social protections, and social dialogue. HKH countries need to provide protection from vulnerabilities and contingencies that take individuals out of work at old age, at times of sudden loss of livelihood, sickness, accident or death. In the case of informal work, these protections are almost non-existent. Attaining the SDG 8 would require establishing these rights.
15.7.3

Mainstreaming Migration into Development

The section on the consequences of migration demonstrated the role of migration in reducing poverty, increasing living standards, and enhancing the social and economic development of migrants, their families, and their communities. To enhance the development impacts and to reduce negative consequences associated with migration, measures should be taken to optimize the potential gains. If low-income households are to fully benefit from migration this is an absolute necessity. For example, the effectiveness of Nepali policy on 'free-visa, free-ticket' for migrant workers should be evaluated, and, if it is successful, replicated in other HKH countries.

Almost all HKH countries have taken different steps to integrate international migration into their development policies. However, most of these policies look at international migrant workers and their remittances as of valuable tool for attaining national development goals. They rarely look for avenues that create space for migrants or their left-behind families to benefit from on-going national development interventions. For example, in the area of financial inclusion, migrants are seen as potential savers. Programmes need to be developed that would provide access to credit, training, business advisory services, and others incentives so that migrants or their families have the tools to turn themselves into investors (Goal 8 & 9: Industry, Innovation and Infrastructure). Integrating return migrants in the development process is another strategy to use their accumulated skills and knowledge and, in many cases, their newly-acquired assets and wealth. Only China and India have specific policies in respect to internal migrants. In some cases, we have noted, these polices on internal migration work as barriers to integration rather than facilitators. Right-based and inclusive policies need to be framed targeting the internal migrants.
15.7.4

Climate Change, Migrants and Urban Cities

Each HKH country has developed its own policies, strategies, and action plans for climate change. These policies still regard internal migration as a threat. Policy planners need to transform their optics on labour migration and remittance into one of opportunity and as an added potential for adapting to climate change. This chapter suggests that the majority of migrants from communities affected by the climate change and variability move within their country of origin. Their major flows are from rural to urban centres, particularly to major urban centres. It was also observed that new migrant populations in urban centres face significant challenges associated with violence, social exclusion, discrimination in the labour market, human and physical insecurities, lack of access to health care, and exposure to new types of environmental risk. SDG 11 targets the creation of sustainable cities and community to enhance inclusive and sustainable urbanization. In order to attain SDG 11, HKH countries need to integrate housing, health, hygiene, sanitation, and security for migrants into their city planning efforts.
15.7.5

Collection and Compilation of Migration Data

Target 16.10 of SDG 16 deals with standardizing and public access to information and data. Migration data are highly deficient in HKH countries. In several HKH countries, labour force surveys provide data on emigration. But these are not available on a regular basis. On the other hand, some countries like India use the census to provide data on immigration rather than emigration. There is also a considerable delay in the publication of migration data by censuses compared to other population characteristics.

Sometimes migration data are provided on stock but not on flow and vice versa. There is a need for country-specific migration surveys at regular intervals in HKH countries. This information would help cross-country comparisons when trying to assess mountain economies. Furthermore, policy makers, researchers and NGOs could benefit from this data to fine tune and enhance their programmes and outreach on migration issues. However, in order to understand better the effects of migration in mountain areas, this data needs to have separate consideration for mountain areas in HKH countries. Data from other sources, such emigration at ports of departure, migrant registration prior to departure, insurance plans taken in connection with overseas employment, and remittances sent through banking channels would be useful to explore various dimensions of migration.
Open Access
This chapter is licensed under the terms of the Creative Commons Attribution 4.0 International License (http://creativecommons.org/licenses/by/4.0/), which permits use, sharing, adaptation, distribution and reproduction in any medium or format, as long as you give appropriate credit to the original author(s) and the source, provide a link to the Creative Commons license and indicate if changes were made.
The images or other third party material in this chapter are included in the chapter's Creative Commons license, unless indicated otherwise in a credit line to the material. If material is not included in the chapter's Creative Commons license and your intended use is not permitted by statutory regulation or exceeds the permitted use, you will need to obtain permission directly from the copyright holder.