17-10-2021 | Technical notes | Issue 12/2021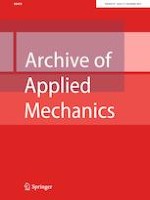 Miniaturized but efficient cantilever beam vibration energy harvesters for wireless bridge health monitoring applications
Journal:
Authors:

Kannan Solai, Meera Chandrasekaran, Joseph Daniel Rathnasami
Important notes
Publisher's Note
Springer Nature remains neutral with regard to jurisdictional claims in published maps and institutional affiliations.
Abstract
Wireless transmission of sensor node signal at minimum power consumption and on-site charging of batteries is the key to the success of Wireless Structural Health Monitoring (WSHM) technology. In structures like bridges, vibration-based piezoelectric energy harvesters are generally employed to convert the ambient vibrations available in the bridges into usable electrical energy. Achieving a lower resonance frequency in a compact micromachined structure is the main goal of this work. It is attempted by optimizing various parameters, including the choice of piezoelectric material used, harvester structural configuration, and conditioning of the output of the energy harvesting circuitry. The authors propose to maximize the induced stress and therefore harvested power by proposing a sectioned cantilever with gradually decreasing widths. Such a design analyzed using the analytical model developed in this work and industrial standard MEMS design tools show that two section beams employed harvesters induce more power and it is 22.8% higher than the power induced in conventional uniform section cantilever beam harvesters. With three sections it is found that it can be further improved by 42.47%. This significant improvement without compromising miniaturization is the key contribution of this work.