2005 | OriginalPaper | Chapter
MIRA: Multilingual Information Processing on Relational Architecture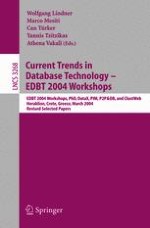 Author: A. Kumaran
Publisher: Springer Berlin Heidelberg
In today's global village, it is critical that the key information tools, such as web search engines,
e-Commerce
portals and
e-Governance
, work across multiple natural languages, seamlessly. We propose a new flexible architecture –
Multilingual Information processing on Relational Architecture (MIRA)
– that supports the multilingual processing functionality of the primary storage mechanism for such deployments – the relational database systems, effectively and efficiently. We propose new linguistic matching operators that enhances the standard lexicographic matching of database systems into
phonetic
and
semantic
domains. We further show that the performance of the systems may be made
language-neutral
. Our proposed architecture is based on standards and hence amenable for easy implementation in any type of query processing and information retrieval systems. In this paper, we present our approach to implement the above architecture and outline the host of research issues that are opened up due to the inherently fuzzy nature of the alternative matching semantics.