2010 | OriginalPaper | Chapter
Mit Engagement gewinnen?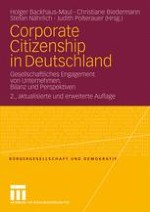 Read first chapter
Author: Silke Ramelow
Publisher: VS Verlag für Sozialwissenschaften
Die Sunday Times veröffentlichte kürzlich die Ergebnisse des diesjährigen
Corporate Responsibility Index
. Unter dem Titel
Companies that Count
stellte
Business in the Community
zum fünften Mal die Top 100 Unternehmen vor, die das Thema
Corporate Responsibility
strategisch verankert haben. In diesem Jahr sei, so die Autoren, ein äußerst bemerkenswerter Paradigmenwechsel zu beobachten: begründeten noch vor einigen Jahren die meisten Unternehmen ihr Engagement auf einer Argumentationslinie, die sich zwischen den Polen Philanthropie und Risikomanagement bewegte, trete heute eine neue Perspektive in den Vordergrund:
Corporate Responsibility
wird mehr und mehr als Entwicklungsfeld unternehmerischer Chancen und als Nährboden von Innovation wahrgenommen.