13-11-2019 | Original Article | Issue 6/2020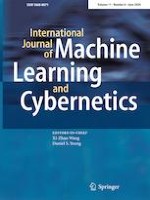 M

k

-

NN

G-DPC: density peaks clustering based on improved mutual K-nearest-neighbor graph
Authors:

Jian-cong Fan, Pei-ling Jia, Linqiang Ge
Important notes
Publisher's Note
Springer Nature remains neutral with regard to jurisdictional claims in published maps and institutional affiliations.
Abstract
Clustering by fast search and detection of density peaks (DPC, Density Peaks Clustering) is a relatively novel clustering algorithm published in the Science journal. As a density-based clustering algorithm, DPC produces better clustering results while using less parameters than other relevant algorithms. However, we found that the DPC algorithm does not perform well if clusters with different densities are very close. To address this problem, we propose a new DPC algorithm by incorporating an improved mutual
k
-nearest-neighbor graph (M
k

-

NN
G) into DPC. Our M
k

-

NN
G-DPC algorithm leverages the distance matrix of data samples to improve the M
k

-

NN
G, and then utilizes DPC to constrain and select cluster centers. The proposed M
k

-

NN
G-DPC algorithm ensures an instance to be allocated to the fittest cluster. Experimental results on synthetic and real world datasets show that our M
k

-

NN
G-DPC algorithm can effectively and efficiently improve clustering performance, even for clusters with arbitrary shapes.