Published in: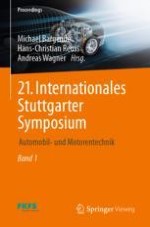 2021 | OriginalPaper | Chapter
MobiLab – The Mobility Living Lab at the University of Stuttgart
Abstract
MobiLab is following all in all three approaches: the strategy to reach climate neutrality with respect to the mobility of the University of Stuttgart until 2035, the implementation of the car-free campus Stuttgart-Vaihingen and the offer of the Mobility Living Lab Campus Stuttgart-Vaihingen. To reach climate neutrality in mobility until 2035 the University of Stuttgart acts mainly in the areas of the daily mobility of students and employees (commuting) and of the business trips of the employees. To address the students and the employees since the beginning of 2021 the position of a Mobility Manager at the University of Stuttgart is established. The basic idea of the car-free campus Stuttgart-Vaihingen is to shift all parking lots, which are currently scattered on the whole campus to the edge of the campus, finally in one huge car park covering a motorway. Then these peripheral parking facilities, as well as the already existing station of the regional train system (S-Bahn), will be connected with the campus. This will be done with novel means of transport like automated shuttle buses or a rental system with autonomous e-scooters. In this context, forward-looking electrical propulsion concepts in combination with autonomous driving as well as intelligent systems to store and distribute electrical energy are important research areas. Putting all this together, MobiLab finally forms a multifaceted Mobility Living Lab with the three main research topics "research vehicle", "research street" and "research multi-storey car park".