20-07-2020 | Issue 8/2020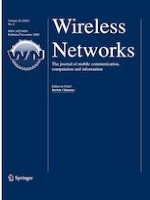 Modeling and analysis of distributed millimeter wave massive MIMO system using Poisson point processes
Journal:
Authors:

Jing Li, Dian-Wu Yue
Important notes
Publisher's Note
Springer Nature remains neutral with regard to jurisdictional claims in published maps and institutional affiliations.
Abstract
This paper studies a downlink distributed millimeter wave massive multi-input multi-output (D-MIMO) system with radio access units (RAUs) and user equipments (UEs) following Poisson point processes (PPPs). Assuming the fading channel is composite, a hybrid precoding algorithm leveraging antenna array response vectors is applied in the D-MIMO system. First, the effects of the relationship between the numbers of RAUs and UEs on system behaviors are discussed. Two RAU allocation algorithms that can realize either the RAU allocation or user scheduling based on minimum distance (Distance-based) and maximum signal-to-interference-plus-noise-ratio (SINR) (SINR-based) are proposed, respectively. Then, the lower bound of the asymptotic average spectral efficiency for the D-MIMO system using Distance-based RAU allocation algorithm is analyzed. Finally, numerical results are provided to assess analytical results and evaluate the impacts of RAU layouts, the densities of RAUs and UEs and the number of available radio frequency chains in each RAU on system performance. It is shown that, for highly-populated scenarios, the PPP-distributed RAU layout is more suitable for the D-MIMO system than the circular RAU layout, and the Distance-based scheme outperforms the SINR-based solution while providing more stable quality of service and requiring less iteration times.