10-02-2020 | ORIGINAL ARTICLE | Issue 4/2020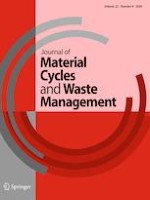 Modeling methane potential yield and chemical composition of bedded pack barn cattle manure: Influence of cattle, season, growth stage, its retention time and particle distribution
Authors:

Yongjun Choi, Jinju Kim, Honggu Lee, Keunkyu Park, Hyounchul Kwon, Youngjun Na, Sangrak Lee
Important notes
Electronic supplementary material
Publisher's Note
Springer Nature remains neutral with regard to jurisdictional claims in published maps and institutional affiliations.
Abstract
The livestock manure is being recycled using various technologies such as composting, bio-gasification, and solid fuel. The various characteristics of the feedstock are very important to develop biomass recycling technology. However, the information is not enough about livestock manure in South Korea. This study was conducted to investigate the chemical characteristics of bedded pack barn cattle manure according to various conditions. The moisture and total solids contents were shown as 71.8 and 28.5% in the bedded pack barn cattle manure (CM), respectively. As the retention time of beef (BCM) and dairy cattle manure (DCM) in the bedded pack barn increases, the volatile solids content got close to 84.2 ± 2.5% on a dry basis. (
P
 < 0.05). The C/N ratio decreased quadratically until 90 days in the BCM and DCM (
P
 < 0.05). The particle size distribution of 0.25 to < 3.25 mm accounted for 91.9% of the total particles. In the methane yield prediction model, the model with the lignin component showed the greatest correlation coefficient (
R
2
). Comprehensively, the chemical characteristics of the CM based on its retention time and particle size distribution might be useful as the basic data in various biomass recycling techniques.