Published in: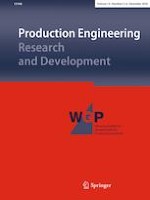 Open Access 24-10-2020 | Assembly
Modeling of vacuum grippers for the design of energy efficient vacuum-based handling processes
Published in: Production Engineering | Issue 5-6/2020
Abstract
Vacuum-based handling is widely used in industrial production systems, particularly for hand-ling of sheet metal parts. The process design for such handling tasks is mostly based on approximate calculations and best-practice experience. Due to the lack of detailed knowledge about the parameters that significantly influence the seal and force transmission behavior of vacuum grippers, these uncertainties are encountered by oversizing the gripping system by a defined safety margin. A model-based approach offers the potential to overcome this limitation and to dimension the gripping system based on a more exact prediction of the expected maximum loads and the resulting gripper deformation. In this work, we introduce an experiment-based modeling method that considers the dynamic deformation behavior of vacuum grippers in interaction with the specific gripper-object combination. In addition, we demonstrate that for these specific gripper-object combinations the gripper deformation is reversible up to a certain limit. This motivates to deliberately allow for a gripper deformation within this stability range. Finally, we demonstrate the validity of the proposed modeling method and give an outlook on how this method can be implemented for robot trajectory optimization and, based on that, enable an increase of the energy efficiency of vacuum-based handling of up to 85%.
Publisher's Note
Springer Nature remains neutral with regard to jurisdictional claims in published maps and institutional affiliations.
1

Introduction

Automated handling of parts, which adds up to about 50 % of all robot-guided processes in production environments [

1

] and usually even exceeds the time used for actual machining [

2

], is often realized by means of vacuum-based handling techniques [

3

], in particular in the automotive field and for packaging tasks [

2

,

4

]. For industrial high-volu-me handling applications, vacuum is typically generated pneumatically through ejectors, due to their fast and wear-free operation and the direct integrability into gripper systems. Hence, ejector-based hand-ling processes are in focus of this work. With regard to typical efficiency ratios of air compression and pneumatic vacuum generation, a maximum of 2% of the initially invested electrical energy is eventually usable for the vacuum-based handling process (Fig.

1

, top). In air compression, less than 10 % of the inserted energy can be used for vacuum generation [

5

], as the vast energy share is transformed to thermal energy by heat dissipation, which is reusable through heat recovery [

6

]. For vacuum ejectors, exergetic conversion efficiencies of up to 20% are calculated in [

7

].
×
However, as major research on energy efficient compressed air generation and distribution [
8
‐
15
] as well as on the optimisation of ejector performance and efficiency was shown [
7
,
16
‐
18
], there is currently a lack of generally applicable methods for the design of vacuum-based handling processes. The process design for vacuum-based handling tasks is usually based on prior experience and best practice knowledge. Uncertainties such as leakage or the unknown force transmission behavior of vacuum grippers make it necessary to roughly estimate the process-specific loads and therefore oversize the system by a defined safety margin. Subsequently, by use of the existent handling system, experimental trial-and-error tests are carried out for identification of advantageous operating parameters. Therefore, in order to eliminate the necessity of such extensive efforts to achieve a highly energy efficient vacuum-based handling process, the objective of this work is to provide a vacuum gripper model that can be applied for design optimization of a vacuum-based handling system and process.
With such a model, the gripper deformation that occurs during the process due to the applied mass and its acceleration through the implemented robot motion can be predicted. The robot trajectory can then be optimized in such a way that the loads at the gripper-object-interface (GOI) do not lead to a critical gripper deformation which would eventually result in a permanently reduced suction force. Conservative methods are based on avoiding any vacuum gripper deformation to ensure a robust handling process. However, this paper raises the research hypothesis that it is possible to reduce the overall energy consumption by deliberately allowing for a certain limited gripper deformation. By downsizing of grippers and ejector as well as load-adapted trajectory planning, the energy consumption for vacuum generation can be significantly reduced. Therefore, a model is required that allows for the prediction of the gripper behavior due to the occurring loads at the GOI and thus enables the task-specific optimization of the robot trajectory.
Section
2
gives an overview on existing modeling approaches for vacuum grippers. These approaches are evaluated with regard to their applicability for model-based trajectory planning and gripper deformation prediction. In Sect.
3
, we present an experiment-based modeling method for vacuum grippers and the experimental setup for obtaining the required data from selected industrial vacuum grippers. On the basis of this method, we introduce an extension of the standard model for estimation of the maximum bearable loads for specific suction grippers. For a more detailed prediction of the gripper deformation due to process-induced loads, we introduce a dynamic surrogate mo-del. In Sect.
4
, the energy savings achievable through the presented modeling approach are elaborated. Finally, Sect.
5
ends with a conclusion of the presented work and gives an outlook for future work.
2

Related work

In summary, a substantial body of research proposes different modeling approaches to mathematically describe the behavior of vacuum grippers due to induced loads. The majority of the proposed methods are based on a static calculation method; few publications demonstrate feasible dynamic prediction models that can be implemented for model-based robot trajectory and also vacuum gripper design. The analyzed research suggests that the implementation of such a dynamic prediction model in combination with the consideration of different object geometries and roughness offer great potential for model-based system and process design with the objective of improved energy efficiency. Therefore, the gripper deformation behavior could be predicted not only depending on the gripper design, but also under consideration of the influence of the gripper-object combination on the sealing and force transmission.
3

Modeling method for vacuum grippers

Numerous design- and process-related parameters influence the resulting holding force that can be generated by a specific vacuum gripper. At first, the most significant influence factors are extracted in order to specify the model structure and the strategy for experiment-based data acquisition. On that basis, both the extended standard model and the analytical surrogate model are specified with concrete measurement data from experiments.
4

Reference scenario: potential energy savings by model-based process design

An industrial reference scenario is introduced in the following to estimate the potential energy savings that can be achieved by application of the elaborated model approaches. For a fictitious pick and place task where a 1

\(\times\)

1 m aluminium sheet is to be transferred between two defined positions within a cycle time of 4 s, J. Schmalz GmbH provided a gripping system including a vacuum ejector that were dimensioned conservatively by use of the standard calculation scheme as shown in Eq. (

1

). This gripping system comprises of four round bell suction cups (diameter 60 mm) that can be evacuated by an ejector with a suction flow rate of 36 l/min. At a recommended target pressure difference

\(\Delta p=600\)

mbar (and the programmed robot trajectory for completion of one handling cycle in 4 s), no gripper deformation occurs. Assuming that the resulting deformation will still remain within the specific stable range as examined in Fig.

8

, it is possible to reduce the gripper size to a diameter of 50 mm (orange in Fig.

10

). The gripper dead volume would be reduced by 41 % compared to the original grippers, which directly leads to a proportionally reduced consumption of compressed air that is required for evacuation of the dead volume (tubings neglected). Further, it is plausible that the ejector could also be downsized since it may take the same time for evacuating a reduced volume, and therefore a reduced suction flow rate could be sufficient. The result is a halved compressed air consumption. Downsizing both the gripper and the ejector would result in a total energy use reduction to 29.5 % of the originally required energy input.
×
Own experiments have shown that an adapted control strategy for the built-in air saving function of the used compact ejector has a significant impact on the compressed air use as well (green in Fig.
10
). An increase in the pressure hysteresis (the range within that the pressure difference is allowed to drop before the ejector starts to generate vacuum in order to maintain a stable level of vacuum) by 100 mbar enables a relative reduction in energy consumption of 10%. When we reduced the target pressure difference from 600 to 500 mbar, this resulted in 55% of the original air consumption. Again, a combination of both control strategies achieves more than 50% energy saving. A larger increase of the pressure hysteresis and decrease of the pressure difference lead to significant gripper deformations. At the specified control parameters
\(\Delta p=600\)
mbar and a hysteresis of 150 mbar, the grippers did not show any noticeable deformation. In general, it must be critically evaluated whether a combination of multiple separate downsizing strategies keeps the gripper deformation within the stable range, since minimal leakage between gripper and object is a prerequisite for application of the described energy saving strategies. However, combining all proposed strategies enables an overall reduction to less than 15 % of the original energy consumption.
5

Summary and outlook

In this work, an experiment-based modeling method for vacuum grippers was presented. The initially introduced extended standard model considers the specific influence of a certain gripper-object-combination on the resulting maximum holding force. This approach potentially allows for a relative downsizing of a vacuum-based gripping system in comparison to the standard model. Based on present research on dynamic surrogate models for vacuum grippers, we demonstrated that on the basis of more extensive testing, a detailed spring-damper-model can be built from test data. Experimental data are publicly available at

https://​lnk.​tu-bs.​de/​AmMnbw

. It was further shown that the dynamic gripper elongation can be predicted qualitatively by means of this surrogate model. However, the occurring prediction errors show that not all phenomena can be modeled sufficiently with the spring-damper approach and must be further investigated in order to enable a precise model-based robot trajectory optimization. With respect to the research hypothesis raised in this work, it can be summarized that the proposed modeling method does not only provide the basis for highly task-specific process and system design optimization, but can also reliably secure these design decisions with knowledge about the gripper deformation reversibility and thus significantly reduce the need for oversizing. Hence, the energy that is needed to realize vacuum-based handling tasks can generally be decreased to a large extent.

In future work, alternative respectively more complex model structures and further regression methods will be evaluated in order to increase the prediction accuracy. In addition, we will evaluate if it is possible to reduce the experimental effort in such a way that a valid model can still be achieved. For example, this could be achieved through generalized pre-trained neural networks that are then post-trained with data from the gripper-object-specific experiments. Up to now, the industrial practicability of the proposed modeling method is limited by the required amount of test data. Whereas subsequent regressions were applied to simplify the position- and velocity-dependent determination of spring- and dam-per parameters in the dynamic simulation, the resulting regression error could be reduced by a more complex representation of the spring- and dam-per characteristics. With regard to the influence of the gripper-object-combination, both proposed model approaches will be extended by considering tests with different object surface roughness. This augments the solution space for the optimization of the robot trajectory or the determination of the optimal gripper positions on a specific object.
Acknowledgements
The authors thank the German Federal Ministry of Economic Affairs and Energy for supporting the project BiVaS (03ET1559B). The project is mainly conducted at Open Hybrid LabFactory, a ForschungsCampus funded by the German Federal Ministry of Education and Research.
×
Open Access
This article is licensed under a Creative Commons Attribution 4.0 International License, which permits use, sharing, adaptation, distribution and reproduction in any medium or format, as long as you give appropriate credit to the original author(s) and the source, provide a link to the Creative Commons licence, and indicate if changes were made. The images or other third party material in this article are included in the article's Creative Commons licence, unless indicated otherwise in a credit line to the material. If material is not included in the article's Creative Commons licence and your intended use is not permitted by statutory regulation or exceeds the permitted use, you will need to obtain permission directly from the copyright holder. To view a copy of this licence, visit
http://​creativecommons.​org/​licenses/​by/​4.​0/​
.
Publisher's Note
Springer Nature remains neutral with regard to jurisdictional claims in published maps and institutional affiliations.