08-04-2019 | Original Paper | Issue 1/2019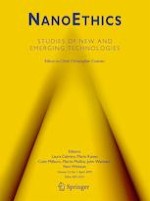 Models of Anticipation Within the Responsible Research and Innovation Framework: the Two RRI Approaches and the Challenge of Human Rights
Journal:
Author:

Daniele Ruggiu
Important notes
Publisher's Note
Springer Nature remains neutral with regard to jurisdictional claims in published maps and institutional affiliations.
Abstract
Anticipation is one of the main goals of new governance models, such as Responsible Research and Innovation
.
However, there is not a single mode of anticipation in this model. Two approaches can be addressed within the RRI framework: a
socio-empirical
one, which tends to underline the role of the democratic processes, aimed at identifying values on which governance needs to be anchored (bottom-up); and a
normative
one, which stresses the role of EU goals (among which are fundamental rights) as 'normative anchor points' in governance (top-down). These two approaches also address two different models of anticipation: one based on the construction of shared pathways for reflexivity on the purposes of innovation (visions), the other based on the progressive implementation of constitutional goals in risk assessment and management tools. However, both can be deemed partially unsatisfactory from the standpoint of human rights since one puts individual rights in the middle of the 'values lottery' where any participatory process ultimately leads; the other can be inadequate since fundamental rights are balanced alongside other goals and thus can be (totally or partially) sacrificed, exposing the system to possible adverse court decisions. The normative framework of human rights can help to counterbalance both models aimed at maximising inclusion and those aimed at pursuing constitutional normative principles at the basis of technologically advanced societies, strengthening their dimension of anticipation according to a rights-based perspective.