21-09-2018 | Methodologies and Application | Issue 19/2019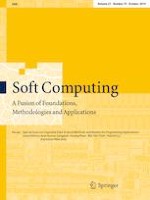 MOEA/D-GLS: a multiobjective memetic algorithm using decomposition and guided local search
Journal:
Authors:

Ahmad Alhindi, Abrar Alhindi, Atif Alhejali, Abdullah Alsheddy, Nasser Tairan, Hosam Alhakami
Important notes
Publisher's Note
Springer Nature remains neutral with regard to jurisdictional claims in published maps and institutional affiliations.
Abstract
This paper proposes an idea of using well studied and documented single-objective optimization methods in multiobjective evolutionary algorithms. It develops a hybrid algorithm which combines the multiobjective evolutionary algorithm based on decomposition (MOEA/D) with guided local search (GLS), called MOEA/D-GLS. It needs to optimize multiple single-objective subproblems in a collaborative way by defining neighborhood relationship among them. The neighborhood information and problem-specific knowledge are explicitly utilized during the search. The proposed GLS alternates among subproblems to help escape local Pareto optimal solutions. The experimental results have demonstrated that MOEA/D-GLS outperforms MOEA/D on multiobjective traveling salesman problems.