Published in: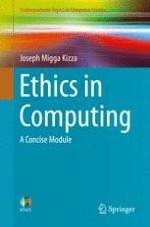 2016 | OriginalPaper | Chapter
1. Morality and the Law
Abstract
This defines and examines personal and public morality, identifying assumptions and values and the law, looking at both conventional and natural law and the intertwining of morality and the law. We define morality as a system that, in addition to setting standards of virtuous conduct for people, also consists of mechanisms to self-regulate through enforcement of the moral code and self-judge through guilt, which is an internal discomfort resulting from disappointment in the self-mediated conscience. Based on this definition, we discuss moral theories, moral codes, moral standards, and norms and how they are used to make judgment of human actions to determine their goodness or badness. With the discussion of moral standards, we venture into concepts of guilt and conscience. We show how moral guilt is a result of self-judgment and punishment by an individual for not living up to the moral standards set for oneself or for the group. We end the chapter discussion with law noting that conventional laws of a society are anchored by the moral beliefs of that society. We look into the heated argument about this statement and observe that both morality and the legal system serve the purpose of keeping society stable and secure.