01-10-2019 | In the Spotlight | Issue 10/2019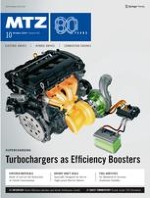 More Environmentally Friendly Cruise Liners?
Journal:
Author:

Christiane Köllner
With their emissions of sulfur oxide, nitrogen oxide, and particulate matter, cruise ships have a poor environmental footprint. On the open sea they burn huge quantities of heavy oil and in port their diesel fumes pollute the air. But the cruise industry is gradually starting to change its approach. Some shipping companies have set their course for a cleaner future with new types of ships and alternative drive systems. ...