19-10-2016 | Commentary | Issue 1/2017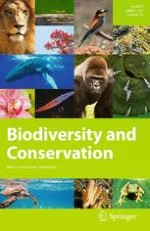 More topics from the tropics: additional thoughts to Mammides et al.
Journal:
Authors:

Jan Christian Habel, Luc Lens, Hilde Eggermont, Mwangi Githiru, Ronald K. Mulwa, Halimu Suleiman Shauri, Thomas M. Lewinsohn, Wolfgang W. Weisser, Thomas Schmitt
Important notes
Communicated by David Hawksworth.
Abstract
Most studies on tropical conservation questions are conducted by researchers of developed countries from the north. This geographic disconnection was recently criticised by Mammides et al. Here, we reflect on their findings and add further views from scientist's and journal editor's perspectives. We argue that journals are, a priori, most strongly interested in research questions and approaches that will likely increase their scientific impact and prestige. This is rarely compatible with publishing articles on questions with restricted global impact or based on single taxa. We question whether small changes in the editorial policy of international conservation journals will considerably improve the geographic diversity in key conservation publications. Rather, thematic scopes of the leading conservation journals should be modified, preferably in close collaboration with leading conservationists from the south. We are convinced that long-term investments in the tropics will create a stronger local scientific community, thus bolstering academic morale, and finally may lead to an increase in the submission and acceptance rate of articles written from scientists from these regions.