01-07-2020 | Original Article | Issue 14/2020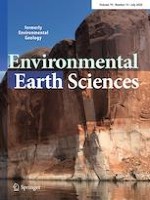 Morphometric attributes-based soil erosion susceptibility mapping in Dnyanganga watershed of India using individual and ensemble models
Journal:
Authors:

Nitheshnirmal Sadhasivam, Ashutosh Bhardwaj, Hamid Reza Pourghasemi, Nivedita Priyadarshini Kamaraj
Important notes
Publisher's Note
Springer Nature remains neutral with regard to jurisdictional claims in published maps and institutional affiliations.
Abstract
Identification of the sensitive regions to soil erosion can be the foremost step in controlling the vigorous pace of soil degradation in agricultural lands. This study employs individual and ensemble models including compound factor (CF), analytical hierarchy process (AHP), and technique for order preference by similarity to ideal solution-analytical hierarchy process (TOPSIS-AHP) for identifying the regions susceptible to soil erosion in Dnyanganga watershed of India using morphometric attributes (MAs). Thirteen MAs were computed using the newly released TanDEM-X data, which is a bi-static X-band interferometric Synthetic Aperture Radar (SAR) acquisition. Weights for each of the MAs were calculated using AHP, which was employed in both AHP and TOPSIS-AHP models. The outcome of the AHP model displays that watershed slope (Sw), stream frequency (Fu), ruggedness number (Rn), and relative relief (Rr) greatly influences soil erosion in the study area. The priority ranking outcome of individual and ensemble models are compared using the Spearman correlation coefficient test (SCCT) and Kendall tau correlation coefficient test (KTCCT) to select the best model for soil erosion susceptibility mapping. The result of the non-parametric tests reveals that TOPSIS-AHP ensemble model is better in ranking alternatives than the individual models. According to TOPSIS-AHP ensemble model, the sub-watershed DNY16 is highly susceptibility to erosion, whereas DNY1 is least susceptible. Based on the ensemble model, 14.54%, 41.02%, and 44.43% of the area in Dnyanganga watershed fall under high, medium and low soil erosion susceptible classes, respectively. The results from this study will aid decision makers in better conservation planning of soil and water resources.