01-04-2021 | Issue 4/2021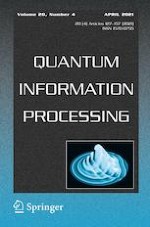 Multi-mode plug-and-play dual-phase-modulated continuous-variable quantum key distribution
Journal:
Authors:

Xiaodong Wu, Yijun Wang, Duan Huang, Ying Guo
Important notes
Publisher's Note
Springer Nature remains neutral with regard to jurisdictional claims in published maps and institutional affiliations.
Abstract
We propose a multi-mode plug-and-play dual-phase-modulated continuous-variable (CV) quantum key distribution (QKD) protocol where Bob prepares independent and identically distributed dual-phase-modulated coherent states in multiple independent modes and Alice uses a conventional noisy, coherent detector to perform homodyne detection. Benefiting from the plug-and-play configuration, our protocol waives the necessity of propagation of a local oscillator (LO) between trusted parties and generates a real local LO for coherent detection. Therefore, the proposed protocol can effectively against the LO-aimed attacks. Moreover, we obtain enhancement in signal-to-noise ratio thanks to multi-mode coherent states. Simulation results show the performance of our protocol outperforms that of the single-mode plug-and-play dual-phase-modulated CV-QKD protocol. In addition, the performance of the proposed scheme is enhanced with the increased signal modes. Furthermore, we take the finite-size effect and composable security into consideration and thus obtain more practical results than those achieved in the asymptotic limit.