04-01-2020 | Methodologies and Application | Issue 16/2020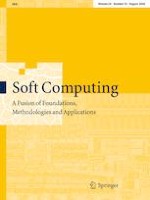 Multidimensional agro-economic model with soft-IoT framework
Journal:
Authors:

Xiaowei Chen, Harry Haoxiang Wang, Bin Tian
Important notes
Publisher's Note
Springer Nature remains neutral with regard to jurisdictional claims in published maps and institutional affiliations.
Abstract
In recent times, there has been a great motivation toward research in the field of big data analysis and their incorporation into Internet of Things (IoT). The basic idea behind IoT is to ensure provision of services to clients all over the globe at any point of time from a pool of resources. With increasing volumes of data being handled, processed and stored in recent times, an efficient processing mechanism for these huge volumes of data is available in the form of big data handlers which ensure speedy provision of services without any delay overhead. Hence, big data and IoT put together prove to be the most effective tool and need of the hour for smooth handling and provision of services demanded by clients thus improving the overall quality of service. These two concepts have been effectively applied to developing an intelligent agricultural economic model which is quite heterogeneous in nature thus posing to be a great research challenge. Agro-economic models are quite essential and critical as agriculture forms the backbone of many developing nations across the globe. ANFIS model introduces the necessary intelligence for the big data analytic system to handle the heterogeneous nature of agro-economic input data and provide a suitable prediction. A sample data of five hundred details from five different subsets have been used in the experimental model and prediction of yield computed and compared against recent techniques.