12-10-2020 | Issue 1/2021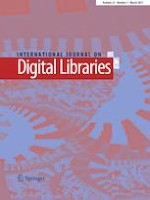 Multilabel graph-based classification for missing labels
Authors:

Yasunobu Sumikawa, Tatsurou Miyazaki
Important notes
Publisher's Note
Springer Nature remains neutral with regard to jurisdictional claims in published maps and institutional affiliations.
Abstract
Assigning several labels to digital data is becoming easier as this can be achieved in a collaborative manner with Internet users. However, this process is still a challenge, especially in cases where several labels are assigned to each datum, as some suitable labels may be missed. The missing labels lead to inaccuracies in classification. In this study, we propose a novel graph-based multi-label classifier that exhibits stability for obtaining high-accuracy results; this is achieved even where there are missing labels in training data. The core process of our algorithm is to smoothen the label values of the training data from their top-
k
similar data by propagating their values and averaging them to generate values for the missing labels in the training data. In experimental evaluations, we used multi-labeled document and image datasets to evaluate classifiers, and then measured micro-averaged F-scores for eight classifiers. Even though we incrementally removed correct labels from the two datasets, the proposed algorithm tended to maintain the F-scores, whereas other classifiers decreased the scores. In addition, we evaluated the algorithm using Wikipedia, which comprises a real dataset that includes missing labels, in order to determine how well the algorithm predicted the correct labels and how useful it was for manual annotations, as initial decisions. We have confirmed that LPAC is useful for not only automatic annotation, but also the facilitation of decision making in the initial manual category assignment.