20-05-2020 | Theoretical / Philosophical Paper | Issue 4/2020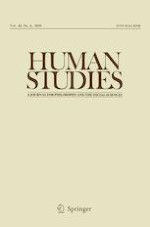 "Multiple Realities" Revisited: James and Schutz
Journal:
Author:

Saulius Geniusas
Important notes
Publisher's Note
Springer Nature remains neutral with regard to jurisdictional claims in published maps and institutional affiliations.
Abstract
Although James and Schutz provide us with the most insightful investigations of multiple realities that we come across in philosophical, psychological and sociological literature, hardly any critical studies have addressed James's and Schutz's conceptions of multiple realities alongside each other. This paper fills this gap. The paper demonstrates that James and Schutz were concerned with the same set of issues in their respective accounts of multiple realities. It further shows the different ways in which James and Schutz understood multiple realities and how they conceptualized the fundamental levels of reality's constitution. It also provides a critical analysis of Schutz's allegation that James's analysis is psychologistic, arguing that this accusation is ungrounded and that Schutz's
epoche
of the natural attitude in fact bolsters James's analysis of belief. The paper concludes with a set of reflections on the heterogenous nature of paramount reality, bringing into question James's and Schutz's assumption that each reality is inwardly coherent, although incompatible with each other.