18-01-2021 | Issue 5/2021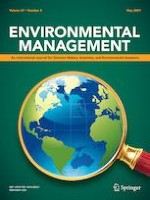 Mutualism Wildlife Value Orientations Predict Support for Messages About Distance-Related Wildlife Conflict
Journal:
Authors:

Stephanie Freeman, B. Derrick Taff, Zachary D. Miller, Jacob A. Benfield, Peter Newman
Important notes
Publisher's note
Springer Nature remains neutral with regard to jurisdictional claims in published maps and institutional affiliations.
Abstract
Wildlife value orientations (WVOs) are used to address human–wildlife conflicts by developing value-framed messaging. However, little is known about whether WVOs (i.e., mutualism, domination) are useful in distance-related wildlife safety communication strategies. This study explores the predictive ability of mutualism and domination value orientations on study participants' levels of agreement with distance-related safety messages. Distance-related wildlife safety messages were crafted to appeal to the four WVO typologies (i.e., traditionalist, mutualist, pluralist, and distanced). Undergraduate students were asked to rate their levels of agreement with a series of distance-related messages. Confirmatory factor analyses were used to create domination and mutualism dimension scores. Multiple regressions predicted levels of agreement with each of the messages from domination and mutualism. Study results indicated that in this sample of undergraduate student participants, only mutualism values predicted distance-related wildlife safety message agreement. This information can be used to help frame communications about distance-related wildlife issues.