19-01-2019 | Original Paper | Issue 5/2019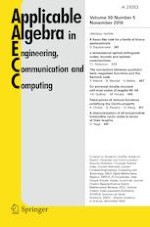 n-dimensional optical orthogonal codes, bounds and optimal constructions
Author:

T. L. Alderson
Important notes
The author acknowledges the support of the NSERC of Canada Discovery Grant program.
Publisher's Note
Springer Nature remains neutral with regard to jurisdictional claims in published maps and institutional affiliations.
Abstract
We generalize to higher dimensions the notions of optical orthogonal codes. We establish upper bounds on the capacity of general
n
-dimensional OOCs, and on ideal codes (codes with zero off-peak autocorrelation). The bounds are based on the Johnson bound, and subsume bounds in the literature. We also present two new constructions of ideal codes; one furnishes an infinite family of optimal codes for each dimension
\( n\ge 2 \)
, and another which provides an asymptotically optimal family for each dimension
\( n\ge 2 \)
. The constructions presented are based on certain point-sets in finite projective spaces of dimension
k
over
GF
(
q
) denoted
PG
(
k
,
q
).