01-04-2012 | Issue 2/2012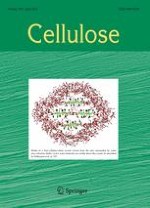 Nano-dispersion of TEMPO-oxidized cellulose/aliphatic amine salts in isopropyl alcohol
Journal:
Authors:

Shuji Fujisawa, Tsuguyuki Saito, Akira Isogai
Abstract
Primary aliphatic amines were introduced into most of (>95%) carboxyl groups densely present on the TEMPO-oxidized cellulose nanofibril (TOCN) surfaces via carboxyl/amine salt formation in a water-isopropyl alcohol mixture. The carbon number of alkyl chain lengths introduced into TOCN varied using
n
-decyl-,
n
-dodecyl,
n
-tetradecyl-,
n
-hexadecyl- and
n
-octadecyl-amines. When
n
-dodecyl-,
n
-tetradecyl- and
n
-hexadecyl-amines were used for neutralization of carboxyl groups, the TOCN-COOH/amine salts were dispersed at the individual nanofibril level in pure isopropyl alcohol (IPA) by ultrasonication treatment, and gave stable and transparent IPA dispersions with birefringence when observed between cross polarizers. Flexible, highly transparent and surface-hydrophobic self-standing films of
n
-dodecylamine-treated TOCN-COOH (TOCN-COOH/C
12
-amine salt) were prepared by casting and drying of the dispersion. However, the introduction of abundant long-alkyl chains on the TOCN surfaces via the amine salt formation resulted in clearly lower mechanical and oxygen barrier properties of the films than those of TOCN-COONa films.