29-03-2019 | Issue 4/2019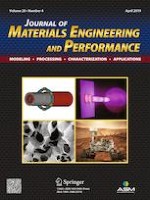 Nanoengineered Hypereutectoid Steel with Superior Hardness and Wear Resistance
Authors:

Riyadh Salloom, Aditya V. Ayyagari, Sundeep Mukherjee
Important notes
Publisher's Note
Springer Nature remains neutral with regard to jurisdictional claims in published maps and institutional affiliations.
Abstract
Hypereutectoid SAE 52100 steel is extensively used in bearing applications. Microstructure modification in terms of dislocation martensite and carbide refinement was achieved for SAE 52100 steel through a simple duplex heat treatment. Refinement of prior austenite grains to less than 5 μm resulted in the conversion of conventional high-carbon twinned martensite to dislocation martensite. The concurrent refinement of austenite grains and carbide precipitates was accomplished by high-temperature austenitization followed by low-temperature tempering. This resulted in nanoscale nonstoichiometric
ε
-carbides within a heavily twinned martensitic structure. These nanoscale carbides acted as grain boundary pinning agents after their transformation to
θ
-carbides during the final austenitization process. The resulting microstructure was characterized by a fine dispersion of
θ
-carbides within dislocation martensite and showed roughly 24% increase in tensile strength and 30% better wear resistance compared to conventional structure.