01-06-2015 | Issue 6/2015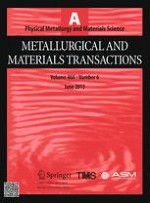 Nanoscale Cellular Structures at Phase Boundaries of Ni-Cr-Al-Ti and Ni-Cr-Mo-Al-Ti Superalloys
Authors:

Cong Wang, David C. Dunand
Important notes
Manuscript submitted July 31, 2014.
Abstract
The microstructural evolution of Ni-20 pct Cr wires was studied during pack cementation where Al and Ti, with and without prior cementation with Mo, are deposited to the surface of the Ni-Cr wires and subsequently homogenized in their volumes. Mo deposition promotes the formation of Kirkendall pores and subsequent co-deposition of Al and Ti creates a triple-layered diffusional coating on the wire surface. Subsequent homogenization drives the alloying element to distribute evenly in the wires which upon further heat treatment exhibit the
γ
+
γ
′ superalloy structure. Unexpectedly, formation of cellular structures is observed at some of the boundaries between primary
γ
′ grains and
γ
matrix grains. Based on additional features (
i.e.
, ordered but not perfectly periodic structure, confinement at
γ
+
γ
′ phase boundaries as a cellular film with ~100 nm width, as well as lack of topologically close-packed phases), and considering that similar, but much larger, microstructures were reported in commercial superalloys, it is concluded that the present cellular structure solidified as a thin film, composed of eutectic
γ
+
γ
′ and from which the
γ
′ phase was subsequently etched, which was created by incipient melting of a region near the phase boundary with high solute segregation.