13-02-2021 | Issue 4/2021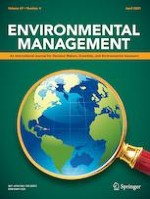 Native Riparian Plant Species Dominate the Soil Seedbank of In-channel Geomorphic Features of a Regulated River
Journal:
Authors:

Marjorie Pereira, Joe Greet, Christopher S. Jones
Important notes
Supplementary information
Publisher's note
Springer Nature remains neutral with regard to jurisdictional claims in published maps and institutional affiliations.
Abstract
Flow regulation impacts on riparian vegetation composition, often increasing the prevalence of exotic and terrestrial plant species. Environmental flows may benefit native riparian vegetation via the promotion of plant recruitment from riparian soil seedbanks, but this is dependent on an intact native seedbank. Thus, we assessed the composition of the soil seedbank of different riverine geomorphic features to determine its potential response to environmental flows. Soil seedbank samples were taken from channel bars, benches and floodplains at six sites along the Campaspe River, Australia, a heavily regulated river that receives environmental flows. These geomorphic features represent a gradient in elevation and thus flooding frequency from frequently flooded (bars) to infrequently flooded (floodplain). Seedbank samples were 'grown out' in a glasshouse, and seedlings identified and classified according to taxa, flood tolerance and origin (native or exotic). We identified 6515 seedlings across all geomorphic features and sites, with monocots most abundant. Soil seedbank composition varied between geomorphic features. Overall, seedling abundances were greater for in-channel features (bars and benches) than floodplains, but taxa richness did not vary likewise. Soil seedbanks of in-channel features were dominated by flood tolerant and native taxa, while flood intolerant and exotic taxa were generally associated with floodplains. The dominance of native flood tolerant taxa in the soil seedbanks of in-channel geomorphic features suggest these seedbanks can play an important role in the resilience of native riparian plant communities. Moreover, environmental flows are likely to play a positive role in maintaining native riparian plant communities given such conditions.