Published in: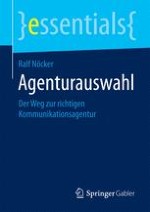 2015 | OriginalPaper | Chapter
1. (Neue) Agentur oder nicht?
Zusammenfassung
Die Frage, wer welche Aufgaben der Marketingkommunikation übernehmen soll, gehört zu den typischen "Make-or-buy"-Entscheidungen. Die auf den ersten Blick selbstverständliche Lösung dieses Entscheidungsproblems, nämlich die Beauftragung einer Agentur (also "buy"), ist auf den zweiten Blick keineswegs so naheliegend, wie es auch die Realität in der Unternehmenspraxis suggeriert. Eine amerikanische Studie zur Entwicklung der Kunde-Agenturbeziehungen zeigte vor einigen Jahren einen wachsenden Anteil der amerikanischen Unternehmen, die über eine Inhouse-Werbeagentur verfügen (Horsky et al. The internalization of advertising services: An inter-industry analysis. Harvard Business School Working Paper Series 06/25, 2008, S. 5).