12-02-2020 | ORIGINAL ARTICLE | Issue 4/2020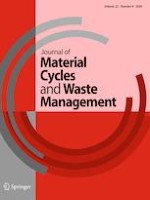 New application of eco-friendly biosorbent giant reed for removal of reactive dyes from water followed by sustainable path for recycling the dyes-loaded sludge in concrete mixes
Authors:

Abeer I. Alwared, Ali J. Jaeel, Zainab Z. Ismail
Important notes
Publisher's Note
Springer Nature remains neutral with regard to jurisdictional claims in published maps and institutional affiliations.
Abstract
Textile wastewater can be considered as a major source of surface and ground water pollution. Several techniques have been applied to treat these carcinogenic effluents. Among them, adsorption is one of the most promising technique. In this study, giant reed (
Arundo donax L.
) as abundantly available undesirable wild crop of no economic value was used for the first time for the removal of reactive dyes from aqueous solution. The results demonstrated that giant reed (GR) could be used as an effective biosorbent for dyes uptake. Maximum biosorption capacity was 3.940 and 2.816 mg/g for reactive blue and reactive black dyes from aqueous solution, respectively. The results revealed that the Freundlich isotherm model was adequate for describing the dyes removal process. Results of pseudo-second order kinetic model revealed best fitting with the sorption data indicating that chemisorption process is the dominant mechanism controlling the dyes removal. Furthermore, the resulted dye-loaded giant reed was recycled in concrete mixes to partially replace the fine aggregate. Tests of the mechanical properties of the modified concrete mixes indicated an environmentally friendly approach to dispose giant reed loaded with reactive black dye in concrete.