15-11-2017 | Issue 4/2019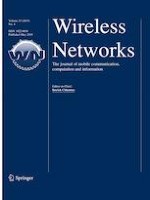 New CRT sequence sets for a collision channel without feedback
Journal:
Authors:

Yijin Zhang, Yuan-Hsun Lo, Kenneth W. Shum, Wing Shing Wong
Important notes
The material in this paper was presented in part at Globecom 2014 Workshop on ULTRA, Austin, USA, Dec. 2014.
Abstract
Protocol sequences are binary and periodic sequences used for deterministic multiple access in a collision channel without feedback. In this paper, we focus on user-irrepressible (UI) protocol sequences that can guarantee a positive individual throughput per sequence period with probability one for a slot-synchronous channel, regardless of the delay offsets among the users. As the sequence period has a fundamental impact on the worst-case channel access delay, a common objective of designing UI sequences is to make the sequence period as short as possible. Consider a communication channel that is shared by
M
active users, and assume that each protocol sequence has a constant Hamming weight
w
. To attain a better delay performance than previously known UI sequences, this paper presents a CRTm construction of UI sequences with
\(w=M+1\)
, which is a variation of the previously known CRT construction. For all non-prime
\(M\ge 8\)
, our construction produces the shortest known sequence period and the shortest known worst-case delay of UI sequences. Numerical results show that the new construction enjoys a better average delay performance than the optimal random access scheme and other constructions with the same sequence period, in a variety of traffic conditions. In addition, we derive an asymptotic lower bound on the minimum sequence period for
\(w=M+1\)
if the sequence structure satisfies some technical conditions, called equi-difference, and prove the tightness of this lower bound by using the CRTm construction.