01-11-2018 | Issue 6/2018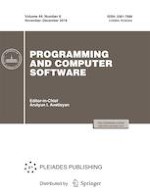 Node Failure Aware Broadcasting Mechanism in Mobile Adhoc Network Environment
Journal:
Authors:

J. Banumathi, R. Kanthavel
Important notes
The article is published in the original.
Abstract
Without any fixed infrastructure, the mobile ad hoc networks were distributed in the environment and this ad hoc network is nothing but a collection of the mobile nodes. In the network performance, transmitting plays a significant role, where it faces many complexities because of the dynamic changing behavior of mobile nodes. Environs Aware Neighbor-knowledge based Broadcasting (EANKBB) method and Optimal Cluster based Broadcasting using GA (OCBC-GA) were brought-in the earlier method, where the cluster head selection is performed optimally with the help of the genetic algorithm. The time sequence schedule is performed to permit each and every node to broadcast for the period of time, once after selecting the cluster head. But this work doesn't concentrate much on the destination node's location, where it has to transmit the broadcasted message to their neighbours, in order to attain the destination. This, in turn, leads to the memory overhead and utilization of the unwanted resource and then the node is permitted to broadcast the messages, if it has high priority and the rest of the nodes should wait until the prioritized node uncovered from the region. This will create issue in the performance of the rest of the nodes which occurs in the network. So, Node Failure Aware Broadcasting Mechanism (NFABM) is brought-in our work, to rectify these issues. With the help of the Hybrid Genetic cuckoo search optimization algorithm and location aware clustering, the cluster head selection is performed in the suggested work. The energy consumption, bandwidth, location and network coverage, were considered as the fitness value here and this, in turn, minimizes the number of broadcast message transmission by transmitting it only to the nodes that are located closer to the destination node. Prioritized Time Sequence Scheme helps our suggested work, to give the equal priority for entire nodes in the environment. Here, a time sequence is computed for every node and it is allocated to individual time period for every node to allow them to broadcast. This new algorithms works like allocating initial time sequence period for the prioritized node for the specific time and it would stop transmission when its time sequence completed. Hence, this concept helps to provide the priority to every node and also each node can be treated uniformly. In the NS2 simulation environment, the entire execution of the work is done, which proves that the suggested work lead to give the optimal result when compared with the current research method.