2013 | OriginalPaper | Chapter
3. Nonlinear Optical Properties of Fullerene Derivatives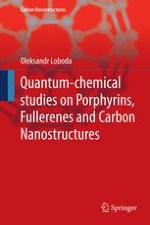 Read first chapter
Author: Oleksandr Loboda
Publisher: Springer Berlin Heidelberg
Abstract
During recent years, a significant progress has been observed in the field of synthesis and characterization of photoactive materials. In particular,tremendous effort have been invested in design of materials exhibiting high nonlinear optical response. A plethora of organic and organometallic systems have been studied in this context. One of the most common routes to design of new molecules with high values of first-order hyperpolarizability (
\(\beta \)
) has its roots in so called two-state model proposed in late seventies. Within this model,
\(\beta \)
is expressed in terms of dipole moment difference, transition intensity and energy difference between excited and ground electronic state. Various molecular systems of donor–acceptor (DA) type according to two-level model have been proposed in order to maximize
\(\beta \)
. However, it has been reported recently that A–A systems containing fullerene may also exhibit high
\(\beta \)
values.