Published in: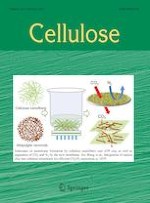 27-01-2022 | Original Research
Novel superabsorbent polymer composites based on α-cellulose and modified zeolite: synthesis, characterization, water absorbency and water retention capacity
Published in: Cellulose | Issue 3/2022
Login to get access
Abstract
Most superabsorbent polymers (SAPs) are prepared based on synthetic polymers (from petroleum resources), making them costly, nondegradable, and not ecofriendly. To overcome these drawbacks, biodegradable and renewable natural materials are proposed as additions into SAPs. In this article, a new SAP composite was synthesized by using AA, AM, α-cellulose, and modified zeolite (MZE). The prepared SAP composites were analysed by FTIR spectroscopy, XRD, SEM and TGA. Then, their water absorbency and water retention capacity results were evaluated. AA and AM were successfully grafted to the α-cellulose chains, and MZE was uniformly dispersed in the SAP composite matrix as an inorganic filler, which endowed the SAP composites with a more undulant and coarser surface along with more abundant hydrophilic groups. In contrast with poly(AA-co-AM), the water absorbency of the prepared SAP composites increased by 93.88% in distilled water and 89.58% in 0.9 wt.% NaCl solution. Additionally, the water retention time of these SAP composites was 11.2 h when evaluated at 50 °C, which was a 71.79% increase. Moreover, both the
T
onset
and
T
peak
of the prepared SAP composites slightly increased compared with those of α-cellulose-poly(AA-co-AM), showing that the introduction of MZE could slightly improve the thermal stability of the SAP composites. These novel SAP composites with their excellent water absorbency and retention capacity could be applied to the agricultural and horticultural fields as water-keeping materials.