30-10-2018 | Focus | Issue 19/2019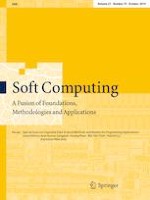 Nucleosome positioning based on generalized relative entropy
Journal:
Authors:

Mengye Lu, Shuai Liu
Important notes
Communicated by A. K. Sangaiah, H. Pham, M.-Y. Chen, H. Lu, F. Mercaldo.
Abstract
Nucleosome positioning played significant roles in various biological processes. With the development of high-throughput techniques, many methods and software were developed for nucleosome positioning. Although results with high accuracy (Acc) were obtained, the key factors for determining nucleosome positioning under less time complexity remain unresolved. Therefore, combining generalized relative entropy with self-similarity of DNA sequences, a novel method of nucleosome positioning was proposed for predicting nucleosome positioning in human, worm, fly and yeast genomes, respectively. Experimental results showed that prediction Acc of nucleosome positioning in aforementioned datasets reached 87.78%, 87.98%, 83.36% and 100%, respectively. Furthermore, it was found that five-nucleotide and six-nucleotide sequences were the determinant factors in nucleosome positioning.