Published in: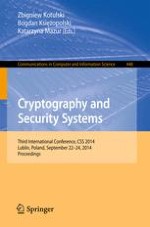 2014 | OriginalPaper | Chapter
Numerical Semigroups and Bounds on Impossible Differential Attacks on Generalized Feistel Schemes
In this paper, we investigate a class of ciphers which can be described as a generalized Feistel scheme. Using the graph theory and the number theory, we provide upper and lower bounds for the maximum number of rounds when impossible differential technique is applicable for any cipher from the family. These estimations do not depend on the type of Feistel scheme and the number of non-linear functions.