18-10-2019 | Issue 3/2020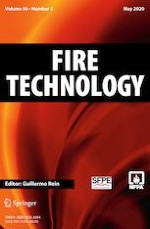 Numerical Studies on Fire Resistance of Prestressed Continuous Steel–Concrete Composite Beams
Journal:
Authors:

Huanting Zhou, Conglong Hao, Zhiyuan Zheng, Weiyong Wang
Important notes
Publisher's Note
Springer Nature remains neutral with regard to jurisdictional claims in published maps and institutional affiliations.
Abstract
Prestressed continuous composite beams (PCCBs) have been widely used in constructions. While the open literature contains notable works that examine the behavior of PCCBs at ambient conditions, the behavior of these members at elevated temperatures has rarely been addressed. As such, this paper focuses on investigating fire resistance of PCCBs by means of advanced numerical simulation. For this purpose, a finite element model was developed to predict the fire response of PCCBs and this model was validated through utilizing actual observations from newly conducted fire tests. Furthermore, a series of parametric studies were carried out to investigate the effect of key parameters on fire response of PCCBs. These parameters include magnitude of applied load, prestressing level, size of external tendons and ratio of span to depth of cross section. The outcome of this parametric study shows that the load ratio has an adverse influence on the fire resistance of PCCBs. For instance, the greater the magnitude of applied loading was, the slower the transient prestress in the external tendons decreased with increasing temperature, and the lower the critical temperature was. Further, when temperature was below 375°C, the larger the prestress ratio was, the slower the deflection increasing rate was. Calculated sagging moment capacity gradually decreased with the temperature rise, reaching the minimum at 150°C, then the moment increased with the increase of temperature. Meanwhile, hogging moment at middle support increased with the increase of temperature during the initial heating phase, then gradually decreased with increasing temperature. For PCCBs with different span-to-depth ratios, the difference of critical temperatures was negligible when the load ratio was constant, and their deflections were very close. When the ratio of span to depth was > 10, the effect of span-to-depth ratios on behavior of PCCBs can be ignored.