01-06-2015 | Issue 3/2015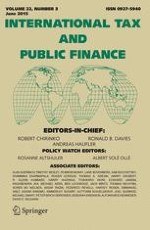 Oates' decentralization theorem with imperfect household mobility
Journal:
Authors:

Francis Bloch, Ünal Zenginobuz
Important notes
We are grateful to Robin Boadway, Marie-Laure Breuillé, Sam Bucovetsky, Nicolas Gravel, Hideo Konishi, Ben Lockwood and participants in the Workshop on Fiscal Federalism in Lyons (November 2010), PET 11 at Bloomington, and in the seminars at the Universities of Uppsala, Otago, Catolica Lisbon, Bilkent, Bern and Paris Dauphine for helpful suggestions. The comments by two anonymous referees and the editor greatly improved the exposition of the paper. Ünal Zenginobuz acknowledges partial support from Bogazici University Research Fund, Project No. 6048.
Abstract
This paper studies how Oates' trade-off between centralized and decentralized public good provision is affected by changes in households' mobility. We show that an increase in household mobility favors centralization. This results from two effects. First, mobility increases competition between jurisdictions in the decentralized régime, resulting in lower levels of public good provision. Second, while tyranny of the majority creates a gap between social welfare in different jurisdictions in the centralized régime, mobility allows agents to move to the majority jurisdiction, raising average social welfare. Our main result is obtained in a baseline model where jurisdictions first choose taxes, and households move in response to tax levels. We show that the result is robust to changes in the objective function and the strategic variable of local governments.