01-09-2018 | Issue 9/2018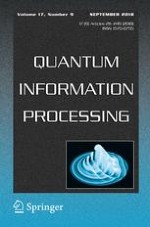 On acyclic anyon models
Journal:
Authors:

César Galindo, Eric Rowell, Zhenghan Wang
Important notes
C.G. was partially supported by Fondo de Investigaciones de la Facultad de Ciencias de la Universidad de los Andes, Convocatoria 2018–2019 para la Financiación de Programas de Investigación, programa "SIMETRÍA
T
(INVERSION TEMPORAL) EN CATEGORÍAS DE FUSIÓN Y MODULARES," E.R. was partially funded by NSF Grant DMS-1664359, and Z.W. was partially funded by NSF Grants DMS-1411212 and FRG-1664351.
Abstract
Acyclic anyon models are non-abelian anyon models for which thermal anyon errors can be corrected. In this note, we characterize acyclic anyon models and raise the question whether the restriction to acyclic anyon models is a deficiency of the current protocol or could it be intrinsically related to the computational power of non-abelian anyons. We also obtain general results on acyclic anyon models and find new acyclic anyon models such as
\(SO(8)_2\)
and the representation theory of Drinfeld doubles of nilpotent finite groups.