24-03-2021 | Original Paper | Issue 2/2021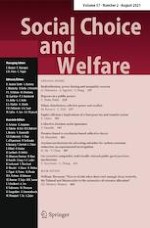 On incentive compatible, individually rational public good provision mechanisms
Journal:
Authors:

Takashi Kunimoto, Cuiling Zhang
Important notes
We thank the editor, advisory editor, and two anonymous referees for helpful comments that have significantly improved the paper. We are especially indebted to Steven Williams for many useful comments on the first draft of the paper. We thank Tilman Börgers, Shurojit Chatterji, Yi-Chun Chen, Atsushi Kajii, Michihiro Kandori, Yukio Koriyama, Maciej Kotowski, Jiangtao Li, Simon Loertscher, Shigehiro Serizawa, Shuichi Tsugawa, Takashi Ui, Jingyi Xue, Huaxia Zeng, and audiences at 2018 Nanjing International Conference on Game Theory and 2018 International Conference on Economic Theory and Applications in Chengdu for helpful comments.
Publisher's Note
Springer Nature remains neutral with regard to jurisdictional claims in published maps and institutional affiliations.
Abstract
This paper characterizes mechanisms satisfying incentive compatibility and individual rationality in the classical public good provision problem. Many papers in the literature obtain the results in the so-called standard model of ex ante identical agents with a continuous, closed interval of types. The main contribution of this paper is the characterization of the budget-surplus maximizing mechanism satisfying incentive compatibility and individual rationality (Theorem 1 for Bayesian implementation and Theorem 3 for dominant strategy implementation) that applies to a finite discretization over the standard model. Making use of the proposed budget-surplus maximizing mechanisms, we show that some known results do not need the agents' risk neutrality, whereas some others do rely on the agents' risk neutrality in a subtle manner. Furthermore, we improve upon some known results and obtain new results which do not exist in the standard model.