Published in: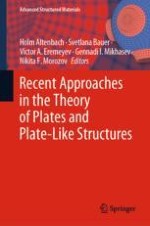 2022 | OriginalPaper | Chapter
On one Class of Spatial Problems of Layered Plates and Applications in Seismology
The class of spatial nonclassical quasistatic and dynamic problems of the theory of elasticity for orthotropic layered plates was solved. We determined the stress-strain states (SSS) of Earth's Lithospheric plates and blocks of Earth's crust on the basis of data from inclinometers, strainmeters and other measuring instruments. Monitoring of changes in the stress-strain state of layered package with respect to the time makes it possible to trace the entire process of accumulation of critical deformation energy and the possibility of earthquakes occurrence.