16-12-2019 | Original Paper | Issue 4/2020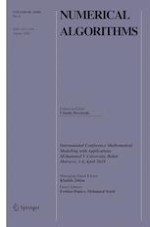 On prescribing the convergence behavior of the conjugate gradient algorithm
Journal:
Author:

Gérard Meurant
Important notes
Publisher's note
Springer Nature remains neutral with regard to jurisdictional claims in published maps and institutional affiliations.
Abstract
The conjugate gradient (CG) algorithm is the most frequently used iterative method for solving linear systems
A
x
=
b
with a symmetric positive definite (SPD) matrix. In this paper we construct real symmetric positive definite matrices
A
of order
n
and real right-hand sides
b
for which the CG algorithm has a prescribed residual norm convergence curve. We also consider prescribing as well the
A
-norms of the error. We completely characterize the tridiagonal matrices constructed by the Lanczos algorithm and their inverses in terms of the CG residual norms and
A
-norms of the error. This also gives expressions and lower bounds for the
ℓ
2
norm of the error. Finally, we study the problem of prescribing both the CG residual norms and the eigenvalues of
A
. We show that this is not always possible. Our constructions are illustrated by numerical examples.