14-04-2020 | Original Paper | Issue 4/2020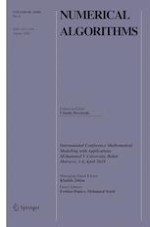 On the calculation of the poles of multivariate meromorphic functions using the symbolic-numeric two-point qd-algorithm
Journal:
Authors:

A. Elidrissi, J. Abouir, B. Benouahmane
Important notes
Publisher's note
Springer Nature remains neutral with regard to jurisdictional claims in published maps and institutional affiliations.
Abstract
The so-called quotient-difference algorithm, or qd-algorithm, is used for determining the poles of a meromorphic function from its Taylor coefficients. A generalization of this algorithm to the univariate and multivariate two-point cases applied to a power series (positive or negative exponents) is presented. We describe also the symbolic-numeric two-point qd-algorithm to compute the poles of multivariate meromorphic functions in a given domain from its series expansion coefficients. This algorithm can be regarded as computing the parametrized eigenvalues for a tridiagonal matrix. Numerical examples are furnished to illustrate our results.